Recorded on June 30, 2015
Sponsored by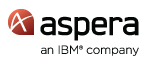 Learn how GenoSpace leverages AWS and Aspera On Demand to provide a comprehensive suite of software solutions for innovators in precision medicine. GenoSpace's cloud-based platform for genomic and other biomedical data powers the interpretation, reporting, and analytics for organizations in research, clinical development, lab medicine and clinical care.
We will discuss how Aspera On Demand and Amazon Web Services enable GenoSpace to:
Leverage cloud infrastructure and services to deliver large complex data sets and analysis tools traditionally only available to statistical experts via GenoSpace Population Analytics
Enable stakeholders to explore and gain insight from complex, heterogeneous sets of genomic and other biomedical data
Overcome file size and data set size limitations to move big data at maximum speed with enterprise-grade security and encryption between the customer, GenoSpace and Amazon Web Services
Utilize Apache Spark on-demand distributed computing, allowing scalable increases in computing power to handle massive datasets and queries
Control costs with cost effective on-demand pricing options for data transfer and computing
Speaker Information:

Mick Correll, Chief Executive Officer, Genospace
Mick's 15+ year career has tracked the path of genomics from basic research to clinical care. Over this time he has held leadership positions in academia and industry, and has developed informatics solutions for pharma/biotech R&D, ag-bio, and academic, government, and community healthcare providers. Prior to launching GenoSpace, he and partner John Quackenbush established the Center for Cancer Computational Biology at the Dana-Farber Cancer Institute. Mick began his career at Lion Bioscience Research Inc. and UK-based informatics provider InforSense. Mick earned a BS in Computer Science and BA in Molecular Biology from the University of Colorado at Boulder.

Christopher Crosbie, Lead Solutions Architect for the Amazon Web Services healthcare and life sciences partner team
Christopher Crosbie has over a decade of experience developing and deploying healthcare and life science information technology solutions in regulated environments. He is currently the lead solutions architect for the Amazon Web Services healthcare and life sciences partner team where he is a trusted advisor to software vendors that build upon the AWS platform in the health space. Previous to joining AWS, Chris headed up the data science team at Memorial Sloan Kettering Cancer Center where he collaborated with physicians and scientists to develop software solutions that enhance cancer research using the organization's vast clinical and genomics databases. Chris started his career as a biostatistics application engineer at the NSABP, a not-for-profit clinical trials cooperative group supported by the National Cancer Institute. He holds an MPH in Biostatistics and an MS in Information Science.

Jay Migliaccio, Director Cloud Platforms and Services at Aspera, an IBM Company
Jay is responsible for Aspera's On Demand product line, providing high-speed transport to, from and across cloud infrastructure and object storage to enable big data applications in the cloud. In his previous role as Director of Sales Engineering, Jay spearheaded the architecture and deployment for numerous Aspera installations in support of complex end-to-end file-based media workflows. Jay brings over 18 years of experience providing OEM Sales, Technical Sales, and Business Development services to technology companies with a focus on disruptive technologies. Prior to joining Aspera, Jay held business development and partner management roles at Novell and SUSE Linux. Jay holds a BS from the University of Massachusetts.