Recorded on September 2, 2015
Sponsored by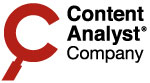 If you had a superhuman expert who could read through thousands of articles, journals and reports in a split second and tell you which ones are relevant, that person would be worth his or her weight in gold a thousand times over. Pharmacovigilance and regulatory intelligence experts are starting to adopt the latest in cutting edge semantic technology to simulate that superhuman research expert. Less searching, less reading; more finding, more knowing. They simply show the system what's important to them, and the system finds everything that's relevant across endless information sources and alerts them when the most relevant new information is available. No keywords, no taxonomies, no false positives. Come see firsthand what secrets the most forward-thinking pharmacovigilance and regulatory intelligence experts are adopting right now to gain a competitive advantage and put more vigilance into their pharmacovigilance initiatives, and more intelligence into their regulatory intelligence initiatives.
Learning Objectives:
Why pharmaceutical companies are rapidly adopting new approaches to pharmacovigilance and regulatory intelligence
How to dramatically mitigate risk exposure, reputation loss, legal action and penalties
How these advancements have already revolutionized several highly sensitive industries such as patent research, intelligence and the legal industry
How to stay current with the most relevant regulations, industry news, competitive intelligence and internal research, with less time and effort
Who Should Attend:
Bioinformatics Experts
VPs/Directors of Clinical/Life Science Research
Senior Scientists
Directors of Information Management
Compliance Officers and Directors
Translational R&D professionals
Knowledge Managers
Speakers:

John Felahi,
Chief Strategy Officer
Content Analyst Company
Mr. Felahi is the Chief Strategy Officer for Content Analyst Company, LLC. He is responsible for the company product strategy and vision. Prior to joining the Content Analyst Company team, he was a Principal Product Planner at Microsoft Corporation, where he was part of a small team responsible for setting the Office product division's long term product direction and strategy. Before Microsoft acquired FAST Search & Transfer, John lead FAST's OEM business, application product management, integration efforts of acquisitions and company messaging. Mr. Felahi has held executive and senior positions at a number of companies in his 20+ years in the software industry. John was a member of the honors program and holds a Bachelor's degree in Economics and Philosophy from Boston College.

Melissa R. Chapman
Principal
The Riverhead Group
Ms. Chapman has a broad background in management and technology in both the public and private sectors. As a health information technology expert, she has been responsible for implementing complex technology solutions for a wide range of clients in the health arena, including the Department of Health and Human Services (HHS), the Food and Drug Administration (FDA), the Centers for Disease Control and Prevention (CDC), and the Department of Defense (DoD), as well as large pharmaceutical companies and health plans. She has strong leadership skills in delivering health-related process and technology strategies and services, and she is a recognized thought leader in the areas of health informatics and technology, drug safety and regulatory issues, international health management challenges, and pharmaceutical IT standards. Currently, Ms. Chapman serves as a principal of The Riverhead Group (TRG)—an IT management consulting firm that provides a variety of integrated service offerings promoting growth and revenue generation for small commercial businesses. The firm leverages proven methodologies and the experience of our principals and consultants to help clients expand existing contracts, enter new markets, and improve competitive positioning. The firm also delivers a range of IT solution to clients, including website and application development.
Cost: No cost.