David Ho Highlights Launch of Bio-IT Asia Conference
---
By Kevin Davies and Allison Proffitt 
June 6, 2012 | SINGAPORE—Ten years after the launch of the Bio-IT World Conference & Expo series in Boston, the conference made its debut in Asia in the sparkling Marina Bay Sands convention center. 
The trio of speakers who opened the three-day meeting was veteran HIV researcher David Ho, bio-IT consultant Chris Dagdigian, and AstraZeneca bioinformatician Yaron Turpaz.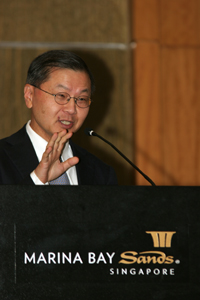 David Ho, who was born in Taiwan and is currently director/CEO of the Aaron Diamond AIDS Research Center in New York, presented a broad overview of current trends in HIV research and vaccine development. He left the audience in no doubt as to the continuing plague caused by AIDS. For example, the lifetime risk of contracting HIV among teenagers in Botswana is 50%, and 33% in South Africa. 
On the other hand, Ho said that nearly 30 drugs are currently available to combat HIV infection—more drugs to treat HIV infection than all the other viruses combined—including the familiar reverse transcriptase and protease inhibitors, as well as more recently developed entry and integrase inhibitors. 
Ho talked about the "big bang" of HIV dissemination. Comparison of two of the oldest isolates of the virus, from 1959 in Kinshasa, Democratic Republic of Congo, and another sample dated to 1960, revealed a surprising diversity of sequence. Modeling studies suggest that the virus probably arose in the late 1800s/early 1900s in Western Africa, only emerging as a pathogen when the virus left Africa decades later.  
Ho is not hopeful for vaccine development "anytime soon," because of the "swarm of diverse viruses" that are mutated HIV that a vaccine would need to target; superinfection any given patient due to multiple virus strains; and the glycan envelope that hampers antibody defenses. Advances in prevention (feted by Science magazine as its 'breakthrough of the year' in 2011) include the use of prophylactic antiretroviral drugs, but getting patients to take the drugs not just for a week but potentially for long periods is very difficult. 
Data Connections  
Chris Dagdigian, a founding scientist at the BioTeam, gave a review of IT trends that he and his colleagues have observed over the past year. While it was natural to envy the resources of genome centers such as the Broad Institute, the Sanger Institute, and BGI, Dagdigian recommended that others to benefit from their experience. When it came to metatagging and data storage, for example, better for smaller organizations to shamelessly copy larger organizations' adopted solutions after a year or two, he said. 
Amazon is still the infrastructure-as-a-service- leader, he said, but there are welcome signs that other cloud competitors, forced to innovate to capture any sort of market share, are producing some exciting new technologies. 
"It will be a MapReduce world. Get used to it. There's no need to roll your own Hadoop," he said. As for moving large volumes of data over the Internet, while Dagdigian still likes Aspera, he was impressed with the number of users reporting success with GridFTP, which he called "a fantastic piece of software." 
Yaron Turpaz worked in Singapore for several years with Eli Lilly before assuming his current position as vice president of informatics and information sciences, R&D, AstraZeneca. The pharma industry is under a lot of pressure to develop drugs more quickly, Turpaz said. Not only are there financial pressures and patent pressures, but the patients are waiting. "I believe that informatics has a key role in the opportunities to accelerate the system and accelerate our pipeline," he said. He also highlighted the role that Asia and Asian researchers would have in this acceleration, and the importance of collaborations and conversations within Asia.  
He discussed several initiatives in data sharing. One called PharmaConnect, for research literature and clinical data, had recruited more than 1,000 internal users over just 3 months. Not as successful as a YouTube viral video, but promising nonetheless. 
AstraZeneca has seen demands among its own scientists that mimic requirements across the industry, Turpaz said. AstraZeneca now has its own app store, having developed internal mobile apps for scientists to access their data, and public apps for physicians and patients around specific indications. Real time modeling and simulation tools are also in demand. Scientists want their data to be computed yesterday, Turpaz said.  
Finally, Turpaz encouraged a diversity of mindsets and ways of thinking in drug discovery because we often miss the things we were not specifically looking for (a video example). Open innovation or pre-competitive collaborations such as the Asian Cancer Research Consortium, Pistoia Alliance, and the Galaxy-based platform CISTROME, and others can bring together different perspectives and truly accelerate our pipelines.  
The Bio-IT Asia conference runs from June 6-8, 2012. Photo courtesy of Ugo Armstrong.