QuantuMDx Launches MolDx Indiegogo Campaign
---
By Allison Proffitt 
February 12, 2014
| QuantuMDx is taking their handheld diagnostic tool to the masses, and hoping to raise $50,000 in an
Indiegogo campaign
starting today. The money will support a malaria clinical trial in Africa.
The tool can differentiate strains of drug-resistant malaria in the field, says c
o-founder and CSO Jonathan O'Halloran, helping public health workers immediately identify which treatments to use, and if it's safe for infected individuals to return to their homes. The company calls 
the tool a "handheld DNA lab," and says f
uture applications include differentiating strains of tuberculosis and other conditions.
The QuantuMDx (QMDx) technology
debuted in 2012
, and is based on re-engineered processes for sample processing and sequencing, explains O'Halloran. 
The strength of the device is that it is handheld—about the size of a "fat iPad" O'Halloran says—and doesn't need a power source or water. Single-use, foil-sealed cassettes include all of the consumables needed for each test besides the vacuum tube for blood collection.
Clinicians—whether in the field or in a laboratory—load blood samples onto the device and titrating beads break open blood cells. A proprietary filter separates the DNA, and samples are rapidly cycled through a 30-cycle PCR reaction. 
The next step is detection via a microarray with nanowires. The nanowire technology is based on rights QMDx acquired to technology first demonstrated in a 2001 Science paper authored by Harvard University's Charles Lieber and colleagues. 
"If you hybridize a target DNA to a probe that sat on the surface of a nanowire, and the DNA is actually negatively charged, it will change the charged density on the surface of the nanowire and we can measure that," explained O'Halloran. "We've demonstrated that we can differentiate between a wild type binding and a single base pair mutation binding very, very easily." 
The Q-POC, QMDx's prototype device, can run a sample in 13 minutes. The goal, O'Halloran said, is to get that down to 10 minutes.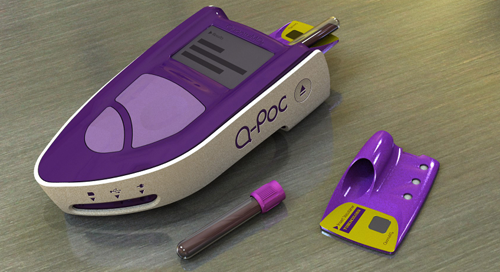 An early design of the Q-POC instrument.
For future tuberculosis indications, O'Halloran says the final step will be sequencing by synthesis reaction using supercharged nucleotides. "It's quite similar to the Ion Torrent methodology, except that we are detecting a big change in resistance due to this tethered reporter moity, polyionic reporter moiety. The difference here is that it's stable. Importantly, we cleave the reporter, thus setting the current in the nanowire FET back to baseline. This provides a multi-stage base call."
The results of either the TB or malaria test are displayed in a "simple-to-use" format on the Q-POC screen, O'Halloran says. 
To the Crowd 
QMDx chose to take their fundraising efforts to Indiegogo because the company isn't yet ready to "go down the VC route," said Elaine Warburton, CEO and co-founder. The company has thus far been funded by angels, super-angels, and grants, Warburton says, and the model has allowed the company to, "keep the purity of our vision." VC influence would push the company away from its philanthropic goals toward a commercial focus, she says. "That's not what we're about at the moment. We want to prove that our technology works and that it's ideal for developing countries."
"We", at this point, includes the five members of the executive team: Warburton; O'Halloran; Professor Sir John Burn, CMO; Paul Fitzpatrick, President of QuantuMDx USA; and Sam Whitehouse, COO.
Warburton does see a commercial future for the company, and says that there will be many applications of QuantuMDx in developed countries, but that is in the future. 
For now, the company is working with a host of partners including St. George's Hospital in London, the Karolinska Institute, World Health Organizatin, and the Clinton Health Access Initiative. 
To that list, they hope to add the public.
The company actually has enough money to develop the device, Warburton says. A clinical trial for malaria is already set up with a partner hospital in Gabon. The public funds will help expand their reach, Warburton says.
"We want to enhance that trial by being able to deliver satellite trials which feed into the major trial," Warburton explains. "Rather than doing this huge, great trial, we want to have [these trials] in different areas, different locations." 
The $50,000 that QMDx is hoping to raise will be applied toward individual tests, Warburton says. It's not funding the entire trial, she clarifies. Contributors will be giving funds that will buy "tests for the clinical trial." 
As a medical device with a humanitarian angle, QuantuMDx was best fit for an Indiegogo campaign, Warburton explains. "We believe we're the first serious biotech to actually use crowd-funding as a means to raise funds," Warburton said, differentiating QMDx from other "consumer-led" technologies.
In return for contributing through Indiegogo, QMDx is offering "perks" (thank you gifts that are part of the Indiegogo system) that range from Eternal Gratitude (for $5 gifts) to a QuantuMDx mug ($50 gifts) to a tour of the QuantuMDx labs and local pub ($7,000 gifts).
QuantuMDx isn't just seeking funds, though. Warburton envisions the Q-POC as a medical device for the general public eventually, and so wants the public's input in the device's name and design.
"Right now our research name is Q-POC. We don't think that's very sexy," Warburton says. "I'm sure someone's got a wonderful name for it. We'd like them to come and contribute the name to our commercial device. And as Jonathan said, we've got the goodies inside the box… it's all working very, very nicely. But we've got a pretty ugly outside. We're looking for the next Jonathan Ives to make that beautiful-looking device. Yes, it's a medical device, but that's not to say a medical device can't look gorgeous."
QuantuMDx's Indiegogo campaign runs for 48 days.