Robots for Hire: Emerald Launches Robotic Laboratories for Life Sciences
---
By Allison Proffitt 
July 1, 2014 | Outsourcing options in biotech have been growing. CROs and other labs offer a wide range of services. But these providers generally position themselves as partners, and services like Assay Depot exist to connect labs and providers, and facilitate communication. 
But what if you aren't interested in a partner as much as simply automated experiments? Don't outsource experiments to another lab; let the robots do them! 
That is the vision of Emerald Therapeutics, a Menlo Park company that announced its latest financing round today ($13.5 million), and its flagship product: Emerald Cloud Laboratory (ECL), a state-of-the-art life sciences laboratory that scientists can remotely access via the Internet where automated robotics conduct experiments exactly as specified by the user. 
A user simply sits down at his computer, specifies the parameters for a given experiment, and the robots do the work. Experiments are executed using Emerald's robotically automated systems, and within 24-48 hours all of the data generated is cataloged and placed into a database where it is accessible to the user and can be analyzed and shared with other scientists.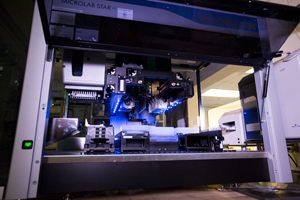 ECL is essentially a venture within a venture, explains Brian Frezza, co-founder and co-CEO for Emerald Therapeutics.  
"We're trying to become an integrated pharmaceutical company," Frezza says, focusing on antiviral technologies. "We developed this out of necessity. It was not conceivable to raise a $40m seed amount. We looked into working with CROs and getting into incubators, but we ended up building the system ourselves to cut down on manpower. [In our pharmaceutical research,] whenever we needed to reproduce something, we couldn't risk wasting time or money on reproducing it." 
For four years, Emerald has been refining their robotics-enabled lab. The company has achieved "push button reproducibility, computation closure around your protocol," Frezza says. "Everything, even number of seconds between pipetting, is exactly the same." A lab technician simply loads reagents into the instruments and presses go. "The robots take care of it." 
It's quite an investment in a side offering. Frezza and his co-founder DJ Kleinbaum both have Ph.D.s in chemistry (chemical biology at The Scripps Research Institute and organic chemistry from Stanford, respectively). But in this case, necessity engineered the invention. 
The user interface—all online—is based on the Wolfram Language, a "knowledge-based programming" language from Wolfram Research. In fact, Stephen Wolfram sits on Emerald's Scientific Advisory Board. For the wet lab side, Frezza is the lead architect of Symbolic Lab Language (SLL), a programming language for conducting and managing data surrounding wet lab experiments by computer.
But users need to know nothing more than their own discipline, Kleinbaum insists. The system currently offers about 40 standard life sciences experiments—from apoptosis assays to MALDI mass spec to Western Blots. They are all set up so that the user can input as little information as possible, or take charge of every detail. "You can have all the control you want, but there are extremely rigorous default conditions to fall back on," he explains. 
Instead of a CRO "partner" guaranteeing yields or other results, the onus lies on the researcher to get it right. "The whole idea is that a scientist is still controlling this," explains Frezza. "We're not a consulting company; we don't guarantee outcomes. We just guarantee that we'll do the experiment exactly as you design it."
Thanks to the robotics data collection, though, every step of the process is recorded, so researchers can easily manipulate parameters to try again, or re-run an experiment with extreme precision. 
There is some human hand in all of this, but lab technicians—right now, five—are "only involved in set up or tear down," says Kleinbaum. "We can run an astonishing number of experiments." 
If your experiments use standard regents, Emerald likely has them on hand. Simply choose from a drop down menu as you set up the experiment. If you need proprietary cell lines or reagents, you can ship them to the facility and Emerald will store them for your use. 
Controlled Growth 
There's a temptation, Frezza says, to throw open the doors and start queuing up assays. The facility could run 24/7, the technicians could take shifts, the robotics would be humming constantly. But that's not the plan. Emerald is committed to the 24-48 hour window, Kleinbaum says. "We really want this to be the Amazon Prime of running experiments... In order to make sure the product always behaves in this way, to ensure the best possible experience to the scientists using it, we're limiting capacity." 
Right now that means about 10 groups (labs or companies) could use the facility full time like the Emerald team does, though Kleinbaum and Frezza know that won't necessarily be the case. In the fall, the robotics lab will be moved to a new facility in South San Francisco and within 18 months should support over 100 standard in vitro experiment types. 
At that point, Frezza envisions offering beta tokens to existing users to share with other researchers. "We want to grow slowly in a controlled fashion." 
To some extent, the ECL is intended to fund Emerald Therapeutics, but neither Frezza nor Kleinbaum expect it to fully support a drug discovery program. Experiments are priced per sample, per experiment. Kleinbaum says prices range from $1-$100/sample, and that the average will be about $5 to $25 per sample/per experiment. "It should be profitable from the beginning, but it's probably not going to pay for clinical trials from the beginning," Frezza says. 
Emerald is also launching a partnership program that takes advantage of the reproducibility inherent in robotics experiments. 
"We all know there's a long tail of stuff people are working on with unique methodology," Frezza says. "One of the problems we want to solve is that there's such a chasm between you creating a new method and publishing it, and people getting to use it." Groups can partner with ECL to set the parameters for a novel protocol or assay, and even commercialize it. Frezza and Kleinbaum envision new protocols being published with a link to ECL. For a partner-set price, anyone can repeat the new protocol exactly, immediately. 
"We would love to enable startup biotech companies to not have to build their own lab," says Kleinbaum. "We will get there; we will have customers like that relatively early on." 
But the initial use case will be to supplement areas of core competency for labs. Kleinbaum remembers having to "beg, borrow and steal other equipment from other labs," when someone needed to test a synthesized compound in his organic laboratory for biological activity. "Now researchers can supplement with additional experiments because you have access to all of them," he says. "You can work across disciplines seamlessly." 
That's the freedom that ECL hopes to provides, Frezza agrees. 
"If we build a single lab that can do everything, you shouldn't be restricted by your own resources," he says. "You should only be restricted by ability to ask the right questions."