23andMe Therapeutics Won't Change Drug Discovery
---
But it's a good move from a company that should know better than anyone how to turn genetic data into real value. 
By Aaron Krol 
March 17, 2015 | For as long as 23andMe has been in business, observers have been asking how its founders plan to make money. The company famously charges customers $99 to test their DNA for hundreds of thousands of genetic variants, with an option to participate in original research. Sometimes that means teaming up with the Michael J. Fox Foundation to assemble the world's largest community of genotyped patients living with Parkinson's disease. Sometimes it means sending out online surveys asking customers whether they can smell asparagus in their pee.
That's all very well, curious minds respond, but what's your real business?
When 23andMe inked deals with Genentech and Pfizer last year, selling the big drug companies access to its database of customers' genetic information, it was treated as an aha moment: you're not a consumer genetics company, you're a data company. With tens of millions in milestone payments lining up on the balance sheets, this seemed like a sensible, even familiar thing for 23andMe to be.
Last week's surprise news, that 23andMe will be launching a new drug discovery unit called 23andMe Therapeutics, has played into the same story: you're not a consumer genetics company, you're a drug company. But is that really what 23andMe Therapeutics is about? I asked Andy Page, President of 23andMe, whether becoming a drug company would change 23andMe's focus on lifestyle and preventive health.
"We're not becoming a drug company," he said.
Maybe we should take him at his word.
23andMe is closely associated with Silicon Valley — its most steadfast investors have been Google and Google Ventures — and that feeds into a couple of narratives about the company. One is that its business can't be as straightforward as engaging customers in genetic research. Think of the old maxim about Google and Facebook: the user is the product. It's tempting to level the same charge against 23andMe, which sells its Personal Genome Service (PGS) kits at little more than break-even prices.
I've given in to this temptation myself, suggesting in a previous feature on the company that 23andMe's customers might not know what they're getting into when they agree to have their data used for research. The cynical angle is that customers are being duped into sharing valuable data, and paying for the privilege. Then 23andMe spins around and sells that data to Pfizer for a handsome profit.
It is valuable data. As the company is fond of saying, the nearly 900,000 customers who have bought PGS kits make up the largest cohort in the world of genotyped individuals who have agreed to be recontacted. "The recontactability has been transformative for our partners in research," says Page. If a drug company looks at the genetic data and decides it wants to take blood samples from a subset of donors, or run tests on their gut bacteria, the customers are there waiting to be asked.
At the same time, it's pretty ungenerous to 23andMe's customer base — 80% of whom consented to participate in research, and many of whom sign in regularly to take new surveys about their health and lifestyle — to say they're all pawns on big pharma's chessboard. 23andMe has reached out to its customers about pharma partnerships, says Page, and "the consumer feedback has been really strong, because they realize that cures just don't happen without biotech and pharma."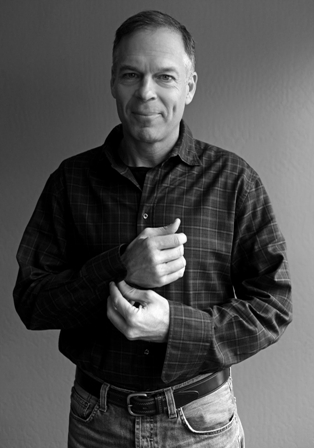 23andMe President Andy Page. Image credit: 23andMe 
Page would like us to look at these arrangements from a citizen scientist's point of view. If you're a Parkinson's patient who signed up to 23andMe's service through the Michael J. Fox Foundation, and Genentech comes along to look through your data for leads on new therapies, is that a betrayal of your trust? How about if you're perfectly healthy, but you like doing 23andMe's surveys and Pfizer thinks your family history of colon cancer might tell them something? 
Another narrative about 23andMe, Silicon Valley biotech, is that its every move must be disruptive. That's been one reaction to the launch of 23andMe Therapeutics. At Xconomy, Alex Lash writes that 23andMe is "diving back into the world of regulated healthcare in a major way… drug developers want broad, deep access to genetic and other data, and tech companies are starting to make those data available." Matthew Herper at Forbes believes that "[t]he move is a big one for 23andMe, because it will allow it to capture a much greater proportion of the economic value its genetic databases could create… It seems that it has finally hit home for Silicon Valley's would-be revolutionaries that medicine is most likely to be changed from the inside." Both writers draw parallels to Apple's recent launch of ResearchKit, an open source platform for medical research on the iPhone that has all the hallmarks of a "disruptive" move into health.
Herper and Lash are smart, veteran biotech journalists, and neither is sold on the notion that 23andMe Therapeutics is poised to revolutionize the drug industry. In Herper's words, "No business is as good as drug development at humbling outsize ambitions."
All I would add is that maybe 23andMe's ambitions aren't so outsize. In fact, far from disruption, what seems to characterize this new move into drug discovery is a healthy sense of perspective.
The Right Man for the Job 
To lead the new 23andMe Therapeutics, CEO Anne Wojcicki personally recruited Richard Scheller, Genentech's recently retired head of research and early development, who will come on board as Chief Scientific Officer. A winner of the prestigious Albert Lasker Award for basic medical research, and former chief of one of the industry's most productive R&D groups, Scheller brings with him a credibility that 23andMe Therapeutics might otherwise have struggled to achieve.
Scheller's move from an established biotech drug creator to a firm that sells spit kits might seem strange, but 23andMe is not reinventing the drug discovery process. The idea of disease-related gene variants pointing the way to new target molecules, and eventually yielding novel drugs, has been thoroughly explored by pharma companies large and small. To name just one example, the discovery of cholesterol-lowering variants in the gene PCSK9 has led to three different advanced clinical trials of cardiovascular drugs. Two of the developers involved, Amgen and Regeneron, are well known for taking a genetics-first approach to drug discovery.
Protective variants like those found in PCSK9 are exactly the kinds of gems that Scheller might hope to uncover in the 23andMe database: high-impact enough to be exciting leads, but subtle enough to have escaped detection up to now. And the power to connect genetic profiles to all types of health information, and even ask 23andMe customers for new data directly, is a meaningful twist. But in more than a decade of high-profile genome-wide association studies, no one has demonstrated that this is a faster or more fruitful method of drug discovery than any other. It's one route among many in a difficult business.
Arguably, the greatest asset that 23andMe's leadership team brings to this new venture is a realistic sense of just how little they know about making drugs. "Without Richard we don't have the skillset internally," Page says bluntly. In fact, he adds, while Wojcicki had been toying with the idea of starting a therapeutics unit for years, she had put off the leap until enough pieces came together to scoop up a top-tier biotech executive who could put her company on a sound footing.
A big piece was demonstrating that the 23andMe database had value for the pharmaceutical industry. Scheller personally signed off on last year's deal between 23andMe and Genentech, giving him an inside look at how 23andMe's customer data, both genetic and lifestyle-oriented, might be mined for new therapeutic leads. "Only then would somebody of Richard's stature… be willing to leave an organization like Genentech and come to 23andMe," says Page.
Page estimates that 23andMe Therapeutics will hire around 15 employees this year, growing to perhaps 30 in 2016. The exact size of the unit will depend on the strength of the leads Scheller finds, and the success of a new funding round this spring, but it will be a small fraction of the parent company, which already employs almost 200 people across its consumer and research divisions.
It makes for a sharp contrast with Genentech, which has the resources and scientific muscle to bring drug programs all the way from early leads to clinical trials. If delving through the 23andMe database does yield promising leads for new therapies, Scheller's team will have to rely heavily on contract groups or outside partnerships to do the heavy lifting of creating promising compounds, screening and refining them, and learning how they behave in cell or animal models.
In fact, 23andMe Therapeutics may never be the largest player in developing its own leads. "It's very likely that [Scheller] will be taking targets that are qualified, and bringing them out to our partners and partnering early on in the process," says Page. "Or potentially later in the process. It's really up to him."
High Risk, High Reward 
Unlike a pharmaceutical startup, 23andMe isn't staking everything on the success of its first few drug programs. Consumer services, says Page, are "the lion's share of the company's business, and will be for the foreseeable future."
Nevertheless, taking on drug discovery is a huge gamble for 23andMe, and not just because it's inherently a high-risk enterprise.
At heart, a therapeutics unit is proof that 23andMe believes its own pitch. Wojcicki has been telling drug companies that 700,000 genotyped, recontactable patients are a dream come true for drug discovery, and now she wants a piece of the action. If selling raw data to pharma partners is a good business model, then selling them well-defined drug programs must be even better.
And surely if anyone can turn the former into the latter, it's 23andMe itself, which has spent years building the kind of engagement with its customers that makes ongoing health research run smoothly.
The flipside, however, is that if 23andMe can't turn its own data into new therapies, maybe no one can. While 23andMe Therapeutics won't be the largest division of the company, it's sure to take on an outsize significance to potential partners. One big success could quickly generate more revenue than any other part of the business, while also signaling to pharma companies considering a research deal that the water is warm. Enough failures, on the other hand, and the water starts to look cold indeed.
That could be a source of worry for people who want to see 23andMe succeed. The new therapeutics unit doesn't even have a lead program or disease area to target — just a mandate to go after novel mechanisms of action, rather than making "me-too" drugs. 23andMe has built patient communities around Parkinson's, sarcoma, lupus, and inflammatory bowel disease, but none of these appear to have generated specific leads so far, and several are earmarked for outside collaborations. A lot is resting on Scheller finding something compelling in the database that will set 23andMe Therapeutics apart from competitors.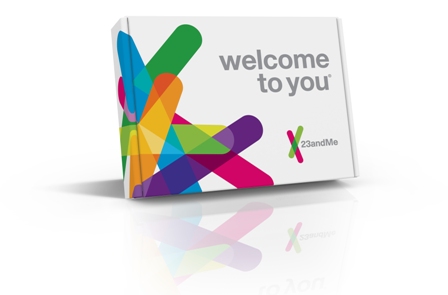 A kit for 23andMe's Personal Genome Service. Image credit: 23andMe 
But it's the right move for 23andMe to take this challenge on itself. One way or another, the industry will gradually figure out the value of a database like the one 23andMe has assembled. By handpicking the lead researcher for a new therapeutics business, Wojcicki is giving this discovery model the best possible chance to succeed, while maximizing her company's share of any eventual profits.
Having laid that groundwork, the leadership team is stepping back, giving Scheller the time and space he needs to form a plan of action. Page says that 23andMe's existing pharma partnerships are a good model for 23andMe Therapeutics, which will be allowed to operate independently and choose its own priorities. "Our therapeutics group will be a customer of our research group, just as Pfizer and Genentech are," says Page. "They'll be closer to the source, they'll have more access to our research team, but it's a pretty natural extension to us."
It's a little reminiscent of Genentech's relationship with its owner Roche, which acquired the biotech in 2008 but hasn't tinkered with its winning formula.
That distance could also make it easier for 23andMe to maintain its relationship with customers, which is built on a message of personal empowerment and a belief that lifestyle choices can make the biggest difference in health. "The consumer continues to be at the heart of what we do… focusing on healthy people and people with no conditions who want to lead a longer and healthier life," says Page. It's a message that would be hard to square with a more wholesale shift into drug discovery.
The Consumer Genetics Company 
Which brings us back to the question of just what kind of business 23andMe is. When all is said and done, the company had one truly disruptive idea: to sell genetic data directly to ordinary people. More than selling databases to pharma or starting a drugs program, this is the part of the company that feels like a wild-eyed dream. Just bringing the price of a genotyping panel within reach of the average customer required some serious economies of scale, while the most attractive part of the PGS — predicting users' unique health risks based on the genetic variants they carry — is a magnet for regulatory action, as 23andMe learned the hard way when the FDA shut down its health product a year and a half ago.
Being a consumer genetics company is 23andMe's defining challenge and opportunity, and no other element of the business works if users stop participating. To continue growing the customer base, and convincing users to take surveys or join research communities, 23andMe has to continually strive to make the PGS service a rewarding one. That involves sharing ancestry information with customers, connecting them with unknown family members, and studying the genetics of goofy traits like unibrows and earwax consistency. It also demands a long-term commitment to winning the FDA's support for health reports.
That's no simple task. Plenty of companies make drugs, and siphoning up health data to sell to pharma is a proven business, but no one has ever sold the FDA on a service that tells everyday Americans their genetic risk for heart disease. Put another way, if 23andMe's real business is selling databases, or discovering drugs — well, there are easier ways.
As a side business alongside 23andMe's genetic health tests, however, a drug unit is just one more part of the ongoing experiment to show that some knowledge of value to medicine lies at the end of all the surveys and gene panels. The launch of 23andMe Therapeutics has been practical, measured, and arguably far from the riskiest thing the company has done.
Meanwhile, 23andMe's populist streak lives on, a little tempered by experience. "Our highest priority is working with FDA so that we have permission to relaunch our health product in the Unites States," says Page. "The opportunity to participate in a drug discovery effort through our therapeutics group hasn't changed the company's focus."