Owen White Receives 2015 Benjamin Franklin Award at Bio-IT World Conference
---
By Bio-IT World Staff 
April 22, 2015 | Today at the Bio-IT World Conference & Expo in downtown Boston, Owen White was named the fourteenth winner of the Benjamin Franklin Award for Open Access in the Life Sciences. This award is given out annually by members of Bioinformatics.org, and recognizes individuals who have made outstanding contributions to the free and public sharing of biological data, as well as tools and methods for understanding that data. Bioinformatics.org President Jeff Bizzaro presented the award.
White is a professor at the University of Maryland School of Medicine, where he serves as director of the bioinformatics department at the Institute for Genome Sciences. One of his major occupations there is managing the Data Analysis and Coordination Center for the NIH-led Human Microbiome Project (HMP), which encompasses many interrelated research programs on the microbes living in and on the human body, and how their composition affects human health. White's management of this Center reflects a career-long commitment to open science, with data not only made publicly available, but also regularized and annotated so that it can be easily compared against outside datasets. He has also worked to ensure that computational pipelines used in the HMP are fully documented so that research can be reproduced.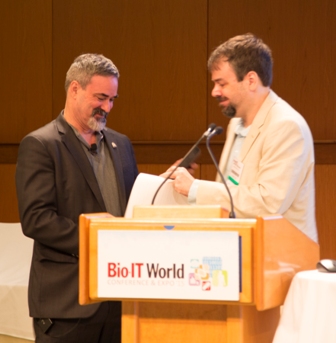 Owen White (L) receives the Benjamin Franklin Award from Jeff Bizzaro at the Bio-IT World Conference & Expo  
In his acceptance speech, White addressed what he sees as a fundamental and growing problem for free and open data sharing, which is the lack of standardized metadata and ontologies. Without common languages for searching through and comparing between large databases, it becomes difficult to place any given experiment or dataset in a useful context, or even understand its quality.
"What we're faced with is being presented with an enormous amount of data, without having any information about it," said White. "As sequencing gets cheaper and cheaper, what's going to be important about the data is the metadata behind it. Even if we could sequence a tumor at the price of making a batch of popcorn, it doesn't matter if you don't know anything about that tumor. Is it still available? Is the subject or volunteer still available? Are there publications associated with that data?"
White pointed to the NCBI BioSample Database, which he believes is doing an exemplary job confronting this problem, attaching rigorous metadata to 16S RNA experiments on tens of thousands of samples. He also made the case for the importance of broad community buy-in when designing standards, and of taking advantage of and drawing connections between the most widely used existing standards, such as OMIM terminology or ICD-9.
"Everybody has an investment in how they do something like annotation, or how they describe patient phenotypes," he said. "And it's hard work. You need to come to a consensus."
White called receiving the Franklin Award "a very personal moment for me," remembering that in 2003, he wrote a paper with Steven Salzberg, Ewan Birney, and Sean Eddy, titled "Unrestricted free access works and must continue" (which ironically is behind a Nature paywall). All four coauthors have now received the Franklin Award, beginning with Birney in 2005.
A previous recipient of the Franklin Award, NIH Associate Director for Data Science Philip Bourne, was also present at the Bio-IT World Conference this week, delivering the opening keynote presentation on Tuesday. 
More from the Bio-IT World Conference: 
2015 Bio-IT World Best Practices Awards Winners Announced 
Bio-IT World Recognizes 2015 Best of Show Winners 
Industry Experts on Designing Research Platforms to Serve Patient Participants