QIAGEN Releases GeneReader for Clinical Sequencing in Cancer
---
By Aaron Krol
November 9, 2015 | QIAGEN's GeneReader DNA sequencing system was finally unveiled last week in Austin, Tex., at the annual meeting of the Association for Molecular Pathology. The company had first planned to launch the GeneReader in 2014, but ran into delays during early access testing.
QIAGEN, an all-around molecular diagnostics company with a large customer base in both clinical and research, has been planning an entry into next-generation sequencing (NGS) since at least 2012, when it acquired Intelligent Biosystems, a small genomics player from Waltham, Mass. QIAGEN has also picked up CLC bio and Ingenuity, two popular bioinformatics vendors, to build a software suite alongside its sequencing system.
QIAGEN is making a late entry into NGS, at a time when even better-established vendors, like Thermo Fisher and Pacific Biosciences, are fighting to hold onto a meaningful share of a market dominated by Illumina of San Diego. But QIAGEN is not the only company that believes a huge, untapped base of hospital labs will soon be using sequencers as part of regular patient care, providing a chance for new technologies to get a foothold. In principle, QIAGEN's existing relationships with these labs as a supplier of tests, reagents, and equipment could help the GeneReader get traction, although if labs prefer to buy sequencing equipment from their reagent vendors, that hasn't been obvious to date. (Just ask Thermo Fisher or Roche.)

QIAGEN's big pitch for the GeneReader is that users will not have to homebrew solutions for working with DNA samples or making sense of genetic data. The GeneReader will only be sold as a package with two other instruments, the QIAcube for extracting DNA from blood and tissue samples, and the QIAcube NGS, which prepares those DNA libraries for sequencing. The system also comes with QIAGEN Clinical Insight (QCI), a platform that combines tools from CLC bio and Ingenuity, to analyze the raw data from the GeneReader and report on the clinical meaning of any genetic variants found.
"Labs struggle with the adoption of NGS, and we feel that QIAGEN is uniquely positioned to help them with those barriers," Jonathan Arnold, QIAGEN's Senior Director of Marketing for NGS, tells Bio-IT World. "We're launching a truly complete NGS solution, and that's very different than what any other vendor has done."
Well, sort of. Complete Genomics, a subsidiary of BGI, took a similar tack with its Revolocity sequencing system this summer, although Revolocity's built-in software only goes as far as calling genetic variants, not interpreting them for physicians. But unlike the ultra-high-throughput, whole-genome-processing Revolocity, the GeneReader is clearly a diagnostic instrument, best suited to targeted DNA testing for clear clinical results. It launches alongside a 12-gene cancer test called the Actionable Insights Tumor Panel, which scans almost 800 mutation hotspots in genes like BRAF and EGFR, looking for variants that can be used to help choose therapies for cancer patients.
As a benchtop instrument, the GeneReader should fit neatly into the workflows of small to midsize labs that might otherwise pick up an Illumina NextSeq, or an Ion PGM or Ion S5 from Thermo Fisher, for targeted sequencing panels. QIAGEN is also offering a flexible pricing structure to win over labs that might want to run NGS, but don't test at a high enough volume to justify buying a sequencer outright.
"We're in these labs today," says Arnold. "I've seen estimates that 75 to 80% of NGS labs are using a QIAGEN solution. And we have product lines, whether it's qPCR or multiplex assays, that give us channels into these labs outside NGS."
The Specs
Genomics researchers and bioinformaticians want to know the specs of a new sequencer: how much data it produces per run, its error profile, its read lengths. QIAGEN hates talking about the specs. The company line is that most of these metrics are irrelevant to a system that's only meant to run panel tests, with the analysis and interpretation baked in.
"A lab does not need a bioinformatician to process this," says Arnold.
Regarding volume, Arnold says the GeneReader system can run up to 120 panels per week. Other metrics are in service of those panels. For instance, the sequencer's read lengths are around 100 base pairs, but not necessarily because of any technical limits. "We're focused on somatic cancer, specifically from FFPE samples, so a read length of 100 base pairs is what that type of application needs," Arnold says. "That's what we designed around."
Similarly, QIAGEN prefers to talk about accuracy in terms of test results, not base calls. At the Association for Molecular Pathology meeting, early access users from the Broad Institute of MIT and Harvard showed that the GeneReader, running the Actionable Insights Tumor Panel, picked up all the same mutations as an Illumina sequencer, and gave equivalent results to QIAGEN therascreen PCR tests.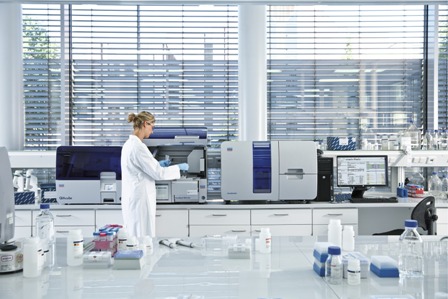 The complete GeneReader system, including QIAcube, QIAcube NGS, and a computer running the QIAGEN Clinical Insight platform. Image credit: QIAGEN
Under the hood, the GeneReader runs on very familiar technology. The sequencing-by-synthesis method QIAGEN inherited from Intelligent Biosystems works the same way as Illumina's machines, flooding the sample DNA with fluorescently labeled nucleotides and imaging the results. (At one time Illumina and Intelligent Biosystems were involved in a series of lawsuits over this technology, although everyone's intellectual property was left intact.)
The most unique feature of the GeneReader is that it can stagger samples. The sequencer reads up to four flow cells at a time, each with up to ten samples ― but if you start sequencing with the machine only partly full, you can add more flow cells mid-run. The GeneReader pulls this off by processing flow cells in "turntable" fashion, physically separating each sequencing step: adding new nucleotides, imaging, cleaving the fluorescent markers. New flow cells just slot into place between steps.
The feature is aimed at clinicians, who may have to start new tests in a hurry and can't always predict their volume.
By Arnold's count, the GeneReader can process 5,000 panels a year, enough for even fairly high-volume labs. So the 20-flow-cell sequencer that Intelligent Biosystems was at one point designing is probably not forthcoming from QIAGEN. "The sequencer itself will grow with the lab as their NGS business and volume grow," says Arnold.
A Testing Machine
QIAGEN would like customers to see the GeneReader less as a device for unraveling the DNA code, and more as a high-throughput testing machine. (In that regard QIAGEN is a lot like Direct Genomics, the Shenzhen-based company whose GenoCare sequencer is in early test runs with three Chinese hospitals.)
Of course, the GeneReader is still a sequencer, and in theory users can do whatever they want with it, from running third-party panels to sequencing bacterial genomes. The embedded software will even help with interpretation, to some extent, for pretty well any use case in humans. The former Ingenuity platform ― now QCI Interpret ― finds and reports disease-causing variants across the human genome, although QIAGEN is careful not to make any claims for the clinical validity of findings outside its own panels.
"We're very focused on our Actionable Insights Tumor Panel," says Arnold. "We verify that panel's performance all the way from the GeneReader's FFPE kit to the backend bioinformatics and QCI Interpret."

That panel covers much the same ground as QIAGEN's existing line of therascreen PCR tests for cancer, but also ropes in some extra gene regions with links to drug labels, the scientific literature, and testing guidelines from major clinical organizations. It also comes with a nifty extra feature in QCI Interpret: information on any ongoing clinical trials connected to a patient's cancer mutations, organized by zip code.
For the time being, the GeneReader's "on-label" applications will stay firmly in somatic cancer. QIAGEN has made sure the instrument can work with the degraded DNA in FFPE (formalin-fixed, paraffin-embedded) samples, and is planning to launch a solution for liquid biopsy as well. The many other potential uses for NGS ― like infectious disease, prenatal testing, and rare disease ― are on the back burner.
QIAGEN is being coy about the cost of the GeneReader, which it expects to sell mostly on a "price-per-insight" model. "I can tell you we will be extremely price competitive with what's out there today," says Arnold. "We would sit down with a lab, talk about the number of samples they're going to be running, and come up with a price based on these different parameters."
It's a smart strategy to expand the number of customers who could think about adopting NGS. Clinical labs that run sequencing panels today already have their technicians trained to prepare DNA libraries, and more importantly, have bioinformatics pipelines in place to deal with the data, either homebrewed or from a vendor. Most likely, they employ experts in genetic interpretation, who can design new tests and know how to deal with ambiguous results. It won't be easy to win these labs over to a new sequencing system when they've already invested heavily in getting this expertise and equipment in-house.
A price-per-insight model lets QIAGEN widen the field, offering more clinics access to the kind of broad cancer testing they might now be farming out to companies like Foundation Medicine, and promising more applications to come. The GeneReader probably won't steal any customers from Illumina, but it might make labs eyeing their first MiSeqDx think twice about their choice of vendors.
New Regulatory Frontiers
QIAGEN's plan is to submit both the sequencer and the Actionable Insights Tumor Panel to the FDA for clearance, but until then, it's selling both of them for research use only.
That means the company has to be a bit circumspect with how QCI Interpret reports findings to doctors. "We make no claims about [the Actionable Insights Tumor Panel] as a diagnostic tool," Arnold says. "We're making no diagnostic claims in the interpretive reports. We're not guiding therapy selection. We're providing the relevant variants, but nothing more than that."

That could change if the GeneReader and its cancer panel eventually win FDA clearance. QIAGEN is testing the waters for a broad form of genetic testing, very different from the tightly-focused NGS assays, like Illumina's tests for cystic fibrosis, that the FDA has cleared in the past. The Actionable Insights Tumor Panel is more like the kind of sweeping genetic testing that more advanced clinical labs have undertaken on their own initiative, under FDA exemptions for laboratory developed tests.
These types of panels already have wide buy-in from professional organizations like the Association for Molecular Pathology. And QIAGEN isn't going out on a limb with its genetic targets, mainly testing genes that the FDA has already acknowledged are linked to treatment options. It would be a good sign for the future if QIAGEN, which knows the FDA better than any of its competitors in NGS, could begin to bring these more wide-ranging uses of sequencing under the normal regulatory umbrella.
Right now, the Actionable Insights Tumor Panel is in the odd position of being narrower than many tests already in use, but more expansive than anything the FDA has so far approved. The launch of the GeneReader will be yet another nudge to regulators to clarify where genetic testing in the U.S. stands, joining a new class of sequencers that are, more than ever, taking NGS to the bedside.