Citizen Sequencers: Taking Oxford Nanopore's MinION to the Classroom and Beyond
---
By Aaron Krol
December 9, 2015 | In February 2005, Karen James was attending the first International Barcode of Life Conference at the Natural History Museum in London. The meeting had convened to spread the word about DNA barcoding, a novel idea at the time, which would let scientists quickly identify species of plants and animals from small pieces of biological material ― a leaf clipping, a scat sample, a strand of hair.
Speaking at the conference was Dan Janzen, a specialist in species conservation in Costa Rica, who had an eccentric vision for how his field work would be done in ten or twenty years' time. "[He] posted a Photoshopped picture of a flip phone ― that's all we had back then ― cobbled together with Sanger sequencing data from a photo on the Internet," James remembers. "And he said, 'One day we'll have a DNA sequencer in our pocket.' A lot of people laughed."
Last week at the New York Genome Center, James retold that story at the first MinION Community Meeting, held about a year and a half after the first pocketsize MinION sequencers were shipped through the mail to scientists around the world. There are now hundreds of these sequencers in circulation, manufactured by Oxford Nanopore Technologies in the U.K.; plugged into a laptop's USB port, they can read the whole genome of a virus in a matter of hours.
It's not quite field sequencing, James says, but "it brings us closer to being able to imagine what that would look like." At the community meeting, Oxford Nanopore showed off prototypes of a device called the VolTRAX, around the size of a very thick credit card, which automatically prepares DNA samples to be fed into the MinION. "You can imagine a MinION attached to a VolTRAX, attached to a smartphone, powered by maybe the phone's battery or an external battery case," says James. "That would be the device."
In her own work, based at the Mount Desert Island Biological Laboratory next door to Acadia National Park in Maine, James has found the MinION so simple to use that she's trained high school students to run experiments on it during summer courses. And the sequencer is so inexpensive that it's reshaping her plans for a larger program in Acadia, where she hopes to recruit thousands of visitors to the national park to collect biological samples. Sequencing these samples as they come in, James could soon enlist her volunteers to help track which species are coming to the park, how healthy their populations are, and whether their seasonal patterns of movement are changing ― especially as climate change disrupts the natural rhythms of the Maine coast.
"It does change the sorts of questions I can ask," she says. "I can imagine asking my citizen science collaborators to collect a water sample, or reach down from their kayak and get some sediment from an eel-grass bed, and using the MinION to sequence that cheaply and quickly."
Users like James are helping Oxford Nanopore reach audiences who could never before have had such direct encounters with the science of DNA. That's not just exciting; it's also a unique business opportunity for Oxford, the first sequencing company that can realistically look at colleges, high schools, and community labs as potential customers. With James' help, the company is starting to test the waters for the MinION in education.
Community Input
At the New York Genome Center, while other members of the MinION Community were showing off projects from the Sierra Leone Ebola outbreak and the International Space Station, James was presenting the first trickle of results from a survey she'd announced a few days earlier on Twitter.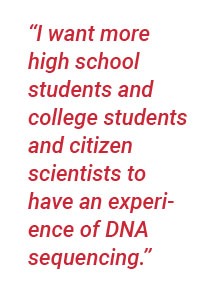 James and Oxford Nanopore want to know how educators might use the MinION in their classrooms and community projects, and what kinds of equipment and support they would need. A few dozen people have already replied to the survey: mainly teachers in universities and high schools, but also a smattering of "biohackers" and interested amateurs from outside the academy. James hopes to eventually collect at least 150 responses, enough to get a feel for the applications where Oxford Nanopore could offer a first port of entry into the practice of genetics.
"The thing I'm most excited about is just getting DNA sequencing into the hands of more learners," she says. "I want more high school students and college students and citizen scientists to have an experience of DNA sequencing that helps them to learn and understand it. It's going to continue to be an increasing aspect of their lives."
A handful of institutions, including the New York Genome Center in partnership with Columbia University, are already figuring out how to offer training on the MinION in a classroom setting. While the laboratory procedures connected to the MinION are simpler than with other sequencers, students still need instruction on isolating DNA from cells, shearing it, and treating it with enzymes that help control the flow of DNA through the instrument's sensors. For students without experience working in labs, that might not be straightforward.
Then there's the backend process of dealing with genetic data. If the aim of bringing the MinION into classrooms is to familiarize students with the ways genetics touches their lives, the long strings of DNA letters produced by Oxford Nanopore's core software are far too abstract to have much value.
The company is just now piloting more approachable tools that place DNA data in a real-world context. This November, it released a program called What's in my Pot?, or WIMP, that matches DNA sequences to known strains of bacteria and other microbes. Students could use programs like WIMP to explore the complex microbial ecosystems living in soil, water, or even their own bodies. (See, "Oxford Nanopore's Software Side.")
"I wouldn't be interested in an educational program that operates like a black box, where people are just producing data and aren't getting anything out of it," says James. For her own projects in Acadia, for instance, she would much prefer if volunteers could go online and follow the samples they collect in the park all the way to species matches, giving them a tangible stake in the program's results. And even the scientists coordinating a project like this will need more user-friendly software, to understand the growing amounts of DNA data they might soon be collecting with help from the public.
"WIMP, or something like WIMP, is essential to being able to do large-scale citizen science assisted by MinION sequencing," James says. "You need to be able to get a rapid answer without spending hours and hours gazing at your data, trying to understand it."
Moving MinIONs
For the time being, educational projects with the MinION are mostly restricted to things like James' summer courses, engaging a handful of students at a time. But Oxford Nanopore is looking into ways it can support a much larger number of educators and amateur biologists who see in the MinION their first opportunity to work hands-on with DNA.
Most of these users won't have the resources of Columbia University and the New York Genome Center. While the MinION is an order of magnitude less expensive than any other sequencer on the market, it's still a pricy piece of equipment for a high school science department or community college ― and a teacher might need five or ten to get a large number of students involved.
James says she's discussed a few solutions with Oxford Nanopore to lower this barrier to entry, like writing grants jointly with teachers, or creating a lending program that gets MinIONs into classrooms without making schools buy them outright. Oxford Nanopore could also try connecting teachers with crowdfunding; the organization DonorsChoose, for instance, lets donors chip in to buy educational materials for public schools. Oxford Nanopore is also weighing whether classrooms might need a specialized kit alongside the MinION, with equipment that customers in research labs take for granted.

To bring these ideas together, James is consulting with Oxford Nanopore on an online education portal. (She is reimbursed for her time working on the site.) In addition to gathering together any funding plans or special kits, the portal is expected to give early adopters a space to submit feedback, and share sample projects and lesson plans.
It's a felicitous moment to think about the role of DNA sequencing in education. At a time when healthcare providers are just beginning to consider genetics as a part of normal care, and companies like 23andMe and uBiome are trying to connect DNA information to people's everyday lives, genetic literacy is becoming a relevant skill far outside the university lab.
"I think of this on a more general level of connecting people to science," James says. "There's a fair amount of research showing that hands-on experiences are more effective learning experiences. The alternative is that you're in a classroom and you hear a lecture about DNA sequencing ― that's a lot less effective than spending an afternoon doing some DNA sequencing."
Karen James and Oxford Nanopore are still seeking responses to their survey on using the MinION in education, which could help shape future programs and support systems. The survey is available at https://drkejames.wufoo.com/forms/q5p46zq1bcl1qb/.