AstraZeneca's CI360 Wins Bio-IT World's Knowledge Management Best Practices Award
---
By Robert Schultz
June 10, 2016 |  Last April, Bio-IT World announced the winners of its Best Practices Awards in Boston. Since 2003, the Bio-IT World Best Practices Awards has honored excellence in bioinformatics, basic and clinical research, and IT frameworks for biology and drug discovery.
AstraZeneca came away this year as the big winner in the Knowledge Management category, impressing judges with their CI360 competitive intelligence platform. The CI360 platform allows them to integrate data in different formats from across a wide array of disparate sources and content providers. This allows them to answer key business questions in a timely manner across their entire pipeline.
The healthcare environment is rapidly evolving, and in order for companies to be successful in the pharmaceutical industry, they need to be able to make decisions that properly optimize resources. By integrating and analyzing multiple sources of data in a flexible and scalable way, AstraZeneca can further ensure that the right patients have access to their medicines at the right time.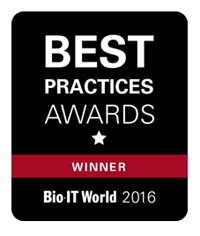 CI360 was developed by AstraZeneca's Research & Development Information (RDI) group and focuses on early-stage competitive intelligence, which is critical to success in the competitive pharmaceutical industry. From a commercial standpoint, the platform helps  AstraZeneca know where to invest time and resources relative to its competitors to deliver needed drugs to patients faster.
CI360 includes a data integration framework, landscape views for drugs and trials, and community messaging capability which allows AstraZeneca to get the full picture.
For example, the robust platform enables users to quickly understand the status of a drug development program, recognize who the other players are in the therapeutic landscape for different disease indications, identify which patient populations have been evaluated, and reference the status of related clinical trials for similar disease targets.
"CI360 is a truly innovative system, which enables us to understand the performance of our compounds (risk-benefit) in early clinical development in the context of the overall competitive marketplace in which we are competing—it perfectly complements REACT  and PROACT" says Dónal Landers, senior director physician with AstraZeneca in early phase oncology drug development.
CI360 was built using three component layers: an Integrated Data Layer (IDL), an application layer (CI360 Landscape) and a community layer (CI360 SharePoint On-Line).
The IDL is the system foundation built using a combination of linked data and big data technologies. First, it generates a data model using a linked data standard. Then, source data can be normalized into this data standard to enhance reuse and harmonize with other sources.
Tom Plasterer, is the US Director and Cross Science Lead in charge of the project with over 20 years of experience working through linked data systems and approaches to data flexibility supporting multiple data types.
"We are dealing with multiple users with different levels of sophistication for whom we have to support  multiple different needs. How do we create a data layer that is going to support that?" says Plasterer.
They achieve this by taking various data sources like Clinicaltrials.gov and remodeling them in a much more expressive way. In a graph data model, they take XML schema and turn it into a Resource Description Framework (RDF) graph. RDF is the format for the semantic web in general and fully resolvable in the web, internet, or in an application. To the end user, rather than operating in a silo, they can jump across all these different source containers to address a key business question. Frequently those sources are wrong. Even for good, licensed, curated content, it's sometimes incorrect, or out of date or all of the above. The data model needs to have an annotation system to be able to change it.
CI360 Landscape is the first application to exploit the IDL for competitive intelligence questions. It uses a sentence-building methodology to find drugs or trials matching search criteria and then lets users filter based on post-hoc criteria.  The results can be shared with colleagues and can be saved using a web link or exported for additional analysis. The CI360 landscape was designed around a few really narrow queries from a much larger graph model and focuses on early drug trials and targets in R&D.
"Other users might have far more complex queries, and really opens it up to the imagination of the power users" says Plasterer.
CI360 SharePoint On-Line is the community layer of the platform. It is an internal competitive Intelligence community for sharing information, tools and portfolio data inside AstraZeneca and coupled to the IDL and CI360 landscape application.
Most importantly, CI360 provides huge benefits in terms of return on investment. It has made it possible to address key business questions using disparate data sources in a timely and efficient manner which has saved many thousands of labor hours. In one project, 300 hours of semi-manual data scientist effort spent curating a competitive disease landscape was reduced to less than 10 hours. As a testament to the value CI360 provides, other AstraZeneca groups beyond the original competitive intelligence users have begun to use it since it was launched in fall 2015. Teams in patient safety, strategic collaborations, trial design, trial outcome analysis, and target selection now also have access to the powerful competitive intelligence data.
"We started off with this early focused on competitive intelligence and competitive discovery, and it did not take long to realize this is part of the whole business, so now we have Phase 2 and Phase 3 groups asking us to address particular aspects of their market questions" says Plasterer.