Building BioTeam's Texas Sandbox
---
By Allison Proffitt 
April 19, 2017 | "As a virtual company, we've never had a place to put stuff except for Dags' basement," Ari Berman told me earlier this year. "I wish I was kidding but that's true."
In 2015, Berman, BioTeam's Vice President and General Manager of Consulting Services decided that the consultancy needed a better spot for non-digital products than co-founder Chris Dagdigian's cellar. BioTeam launched its Convergence Lab, datacenter space hosted by the Texas Advanced Computing Center in Austin, Texas, dedicated to BioTeam.
The lab was Berman's brainchild. "BioTeam is vendor agnostic. We don't go into places and recommend devices or anything that we haven't tested ourselves. The problem is, it's hard to get our hands on things," Berman told Bio-IT World. "One of the things I started the lab for was to say, 'Hey, let me just have a place where we have some server equipment set up, some nice networking set up, so that vendors can send us demo pool equipment so we can play with it and test it and send it back.'" 
Several BioTeam members live in Austin, Texas; TACC houses one of the nation's fastest supercomputers, with plenty of capacity. It was a good fit. TACC provides the space, power, cooling, and the actual racks; they've connected the lab to an Internet2 connection. In return, BioTeam is helping TACC work better with industrial partners and troubleshoot some of their own problems.
Adam Marko, one of the Austin-based consultants, helped set up the lab and now manages it and most vendor relationships, with other Austin-based team members jumping in if needed.
Within the lab, everything—including the racking, installations, configuration, vendor communication, and return shipping—is done by BioTeam. The Convergence Lab is using two racks right now, but has space for up to six. Marko spends about six hours a week onsite at TACC, but once hardware and networking are set up, the lab is remotely accessible to the whole team.
"Any configuration or running of jobs can be done by any BioTeam member anywhere on the planet with an internet connection," Marko says. "This is how we function with all of our customers. We go on site and get things stood up, remotely accessible, and remotely controllable, and then we work remotely as much as possible." 
Building a Playground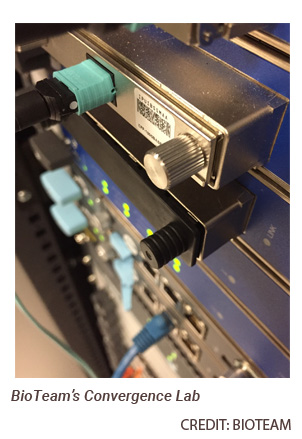 Initially, the Lab simply asked for vendor demos and proof-of-concept products to play with. Companies with established BioTeam relationships were happy to share. Juniper, Berman mentions, has kept up steady loans of networking equipment, and Supermicro from Silicon Mechanics has loaned a small cluster.
Other vendors sent demonstration products on a schedule. BioTeam would be free to test them against biological workflows, test integration options, and get hands-on experience with the products, before returning them. Consultants would increase their expertise and be able to make better recommendations for customers.
It was a challenging business model though. There's always billable work to be done somewhere. To reconcile that, vendors have the option of engaging BioTeam to give feedback on the products, Berman explains, making the exploration of products itself billable. "We have an established set of real-world biological testing that we can do against [products]. Adam and I have defined some NGS pathways, some image analysis pathways, some molecular dynamic stuff. Stuff that hits storage in different ways, or hits equipment or compute in different ways, and requires various levels of networking attached."
BioTeam benefits by getting to "really hammer on something and see how well it performs, so we can make our own decisions," Berman says. Vendor organizations get the findings.
"It's not 'hero numbers,'" Berman says. "It basically says, 'Ok, your default configuration did this. Compared to our own system that we've optimized, this is how you perform.'"
Marko is quick to point out that all comparisons are between vendor products and BioTeam-created solutions. Recently the Lab has been looking at storage. "We have our own home-built storage that we configured using our own expertise. That's what we use as the benchmark," Marko explained. "We're not wanting to provide competitive advantage marketing. We're trying to stay fair, impartial, and unbiased."
Berman argues that many vendors—with storage as the most recent examples—aren't testing their equipment on life sciences use cases. They aren't used to the data flows or algorithms.
"What we're actually providing is an independent, context-specific assessment of their equipment," he says: "How would a bioinformatician utilize this? How would a supercomputing center that has a lot of biological workflows utilize this and how would it perform?"
Here convergence is key. "It's called the BioTeam Convergence Lab for a reason. We're looking at the holistic configuration of the environment, not just that piece of the equipment. Then we can see: 'If we tweak the network this way, how does that change the way the storage works?' and things like that," Berman explains. 
BioTeam is not offering go-to-market strategies, Berman emphasizes. "We did that once… and they really won out on that," he laughs. "We're going to provide you this data, and you can do what you want with that data. Develop your own market strategy from that, or go back to the drawing board and redo your engineering."
Keeping on good terms with vendors relies on the transparency, Berman believes. "We're going to give them the good and the bad data and let them decide what to do with it," he says. "And we agree to keep those data private to BioTeam… I'm not going to share that with other customers."
Questions Upon Questions
While BioTeam isn't sharing their findings with other vendors or users, the company is certainly expanding its own knowledgebase. Customer recommendations are always based on what would work best in a customer's unique environment, Berman and Marko say, and they are able to simulate many situations in house.
So far, most of the work in the Convergence Lab has focused on testing storage solutions, but Berman sees that shifting as the Lab—and its business model within BioTeam—matures. Berman expects to test more software solutions and multiple areas of networking—"We'd really like to compare Mellanox and Omni-Path!" He says the company has a number of science DMZ reference designs he'd like to test with Juniper, Arista, Cisco, Fortinet, and other vendors.
The lab hasn't yet used the TACC supercomputing resources—the lab has its own 192 threads of compute, and Marko says a supercomputer is not a real use case for most customers—but Berman sees opportunities to change that.
"[TACC is] among the premier supercomputer centers in the United States right now. As a result of us being there, they've given us access to a whole lot of their stuff. If we need to scale something beyond what our lab can do, we can work with them to use one of their larger systems. If we really need to throw 10,000 cores at something, we can do it with them rather than having to spin up Amazon [Web Services]. That's another thing we want to test: on prem vs public cloud hybrid environments."
Berman sees use cases beyond testing as well. The Lab can also serve as test space for customer pilots. "If the vendor ships us the equipment into the Lab and we give the customer remote access, we could do a whole pilot here in a controlled environment," Berman said.
Another option is to use the Lab as a staging space for configuring and standing up new infrastructure. "We can have all the equipment shipped here, stage, build it, make sure it configures, fully test it, and—once it's ready—ship it to the final location." The final debugging and integration would happen at the customer site, but the model would cut down on the time that a consultant must travel to the site.
Neither scenario would be permanent; BioTeam has no interest in launching its own cloud or co-location facility, Berman says.
The lab can also serve as an incubator for BioTeam products. BioTeam is currently offering the BioTeam Appliance Galaxy Edition, which was a Best of Show finalist last year at Bio-IT World. "As BioTeam gets more and more serious about products," Berman said, the space could be, "an incubator space for pilots that could lead to products, utilizing some of these infrastructures."
With all these ideas, Berman says that TACC is the best place for the Convergence Lab. "We have a very collaborative and healthy relationship with the director of TACC, Dan Stanzione… He's got plans that involve introductions to some very large life sciences and healthcare companies and organizations [for TACC's Industrial Partnership program], and we've talked about doing training together," Berman explains. The two groups fit together well culturally.
"They're very experimental. If we had a crazy idea we could probably do it with them, and vice versa."
Editor's Note: Berman and several colleagues are featured in a BioTeam Micro-Symposium at the 2017 Bio-IT World Conference & Expo. They will discuss trends in bio-IT. Thursday, May 25, 2:00 pm