National Genomic Data Initiatives: A Worldwide Update
---
By Paul Nicolaus
August 12, 2019 | The first attempt to sequence a whole human genome took over a decade. Today, this same feat can be accomplished in a single day. This type of progress means new possibilities for improving the prevention, diagnosis, and treatment of disease using personalized data.
And there is a significant shift underway, Ewan Birney of the European Molecular Biology Laboratory–European Bioinformatics Institute told Bio-IT World.
The generation of genomic data within the healthcare setting could soon outpace the amount produced in the realm of research. He and colleagues have estimated that by 2025, over 60 million patients will have their genome sequenced in a healthcare context.
This movement toward the application of genomics to medical practice is exciting because it is essentially "precision medicine come real," said Birney, who serves as chair of the Global Alliance for Genomics and Health (GA4GH), an organization that aims to enable the responsible and secure sharing of genomic and health-related data.
And it can be attributed at least in part to the emergence of large-scale national genomic initiatives. Since 2013, the governments of over a dozen countries have invested—to the tune of over US$4 billion—in establishing national genomic-medicine initiatives.
There are a variety of approaches taken. Some programs have focused mainly on rare diseases and cancer, while others have pursued population-based projects. Still other nations are primarily focused on developing infrastructure, such as common standards and data-sharing policies and platforms.
These country-level, government-funded initiatives are an important part of worldwide efforts to harness the potential of genomic data, according to Kathryn North, who leads Australian Genomics and serves as co-vice chair of GA4GH.
A coordinated national approach can help accelerate implementation, while "breaking down geographical and professional silos and avoiding unnecessary duplication of effort and infrastructure," she told Bio-IT World in an email interview.
Internationally, these initiatives play an important role in the sharing of resources, knowledge, and experience in order to create a global learning system. They also "enable best practice in data sharing that will magnify the benefit of individual datasets," North added.
Although many of the national genomic medicine initiatives are still in their infancy, early results are beginning to be seen from some of the more well-established programs, North noted. In the UK, for example, the goal of 100,000 genomes was reached and has served to establish the infrastructure needed for the integration of genomic sequencing into routine healthcare.
In Australia and the US, studies have come out that provide evidence "on the diagnostic, clinical and economic value of genomic testing in specific patient groups" and address "gaps in evidence for the effective clinical and laboratory delivery of genomic testing."
The major benefit of large-scale national efforts will ultimately flow to the people receiving care, Birney pointed out. "Commercial companies have an important role to play in this ecosystem," he said, "but ultimately this is about making people better for longer."
In order to get there, however, there is a need to tackle some notable challenges. From Birney's vantage point, there are two that stand out. The first is the need for a systematic skills transfer from basic research into healthcare.
Another notable challenge, which GA4GH takes on, is working to interoperate between the national genomic initiatives taking place across the globe by establishing frameworks and setting technical standards.
But which countries are involved? And what progress has been made so far?
While there are myriad genome initiatives around the world, some (like H3Africa) aren't strictly national since they include multiple countries. Others (like deCODE genetics in Iceland) are backed by companies.
Still other initiatives are either too early in development to be labelled as active or don't have significant government recognition, according to Lindsay Smith, who manages GA4GH's clinical and phenotypic work stream. Other future initiatives, such as the Canadian Genomics Partnership for Rare Diseases (CGP4-RD) from Genome Canada, are building from regional initiatives funded through established grant mechanisms.
The following overview, which relies largely on a 2019 paper co-authored by North and Birney (DOI: 10.1016/j.ajhg.2018.11.014) and websites devoted to the initiatives, offers an update on currently active national government-funded genomic-medicine initiatives, grouped by area of emphasis.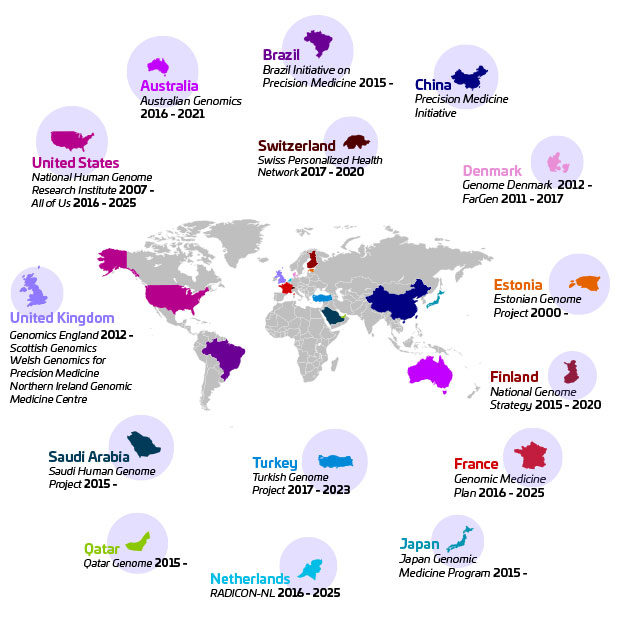 Australia
The Australian Genomics Health Alliance (Australian Genomics), which brings together roughly 80 institutions across the nation, set out to build evidence to "inform the integration of genomic medicine into mainstream healthcare" with rare disease and cancer flagship projects serving as models.
In 2018, Australian Genomics announced the Genomics Health Futures Mission to support new and expanded clinical studies in rare disease, cancer, and complex conditions as well as early access to clinical trials and dialog to better understand elements of genomics ranging from privacy and legal issues to social and familial aspects.
France
In 2015, the French National Alliance for Life Sciences and Health (Aviesan) was tasked with determining how to integrate sequencing into the care pathway. The result, called the France Genomic Medicine Plan 2025, outlines the intent to prepare for this integration and to set up a national genomic medicine framework.
The initial focus centers on cancer, diabetes, and rare diseases with the aim of sequencing 235,000 genomes per year by 2020. Beyond that, the effort is expected to open up to common diseases as well.
Saudi Arabia
Initiated in 2013 and led by The King Abdulaziz City for Science and Technology (KACST), a scientific government institution, the Saudi Human Genome Program (SHGP) looks to sequence 100,000 human genomic samples to develop effective methods for early diagnostics and treatment of heritable diseases.
Consanguineous marriages pose a unique health challenge for the country. It is estimated that severe inherited diseases impact about 8% of births, and common genetic diseases like diabetes impact over 1 in 5. The SHGP is intended to find the genes responsible for genetic diseases—both severe and common—that impact the Saudi population.
By the end of 2016, the SHGP had developed 13 gene panels covering over 5,000 inherited diseases, according to a blog post. In addition, the program had sequenced over 10,000 samples from Saudi patients with inherited diseases that led to the identification of more than 2,000 variants.
The Health Institutes of Turkey (TUSEB) initiated the Turkish Genome Project with a goal of sequencing 100,000 genomes from healthy individuals as well as rare and complex disease patients. Along with that endeavor, there have been efforts to establish a national Biobanking and Biomolecular Resources Infrastructure.
The effort is planned in two phases, according to a paper published in Molecular Genetics & Genomic Medicine. The first phase has sights set on reaching 100,000 genomes before ramping up to 1 million genomes ahead of the 100th anniversary of the Republic in 2023. One component will center on complex phenotypes with high rates of heritability such as obesity, diabetes, and cardiovascular disease. Rare diseases and cancer are other areas of emphasis, particularly familial forms of these illnesses.
United Kingdom (UK)
Genomics England was set up in 2013 to deliver the 100,000 Genomes Project. Funded by the National Institute for Health Research (NIHR) and NHS England, the endeavor set out to sequence whole genomes from patients with rare diseases and common cancers, along with their family members. The Scottish Genomes Partnership, Welsh Genomics for Precision Medicine Strategy, and Northern Ireland Genomic Medicine Centre all joined the effort, and in late 2018 the project hit its target goal of 100,000 genomes.
According to its website, the initiative has delivered results for the patients involved. One in four participants with rare diseases received a diagnosis for the first time, for example, and potentially actionable findings were provided in up to half of all cancer patients. The intent is to expand the 100,000 Genomes Project to sequence one million whole genomes by the NHS and UK Biobank. There are also aspirations of sequencing five million genomes in the UK within five years.
POPULATION-BASED SEQUENCING
In late 2017, China set out to document the genetic makeup of 100,000 people. Funded by the Ministry of Science and Technology, researchers indicated plans to use the genetic data of the Han ethnic majority and nine other ethnic minority groups to decode hereditary information within genes and gather genetic information from those who suffer from an array of diseases in order to better understand links between specific genes and certain diseases, such as diabetes.
There are now far greater ambitions in place. The Chinese Academy of Sciences (CAS) launched the country's Precision Medicine Initiative with the goal of sequencing 100 million human genomes by 2030.
GenomeDenmark is a country-level platform for sequencing and bioinformatics that includes universities, hospitals, and private companies. The initiative is funded by a grant from the Innovation Foundation (previously the Danish National Advanced Technology Foundation), and demonstration projects are focused on anti-cancer vaccines and the creation of a Danish reference genome.
In addition, the FarGen Project was initiated by the Genetic Biobank of the Faroe Islands. The goal of the project is to read the whole genome of the Faroese population in order to develop a platform for genetic research. Denmark has also announced plans to establish a new national genome center for personalized medicine.
The Estonian Genome Project is a population-based biological database and biobank. The initiative is a collaboration between the Ministry of Social Affairs, the National Institute for Health Development, and the Estonian Genome Center of the University of Tartu, which has maintained the DNA of the 50,000 samples collected during the project's initial phase.
The country's government set out to recruit and genotype 100,000 new participants in 2018 as part of its National Personalized Medicine program. Later that year, the Institute of Genomics announced that the goal had been met and indicated an additional funding allocation to continue into 2019 with a goal of collecting another 50,000 samples. The plan is to use the data to generate genetic reports for participants, which will be linked with the Estonian National Health Information System.
Japan
The Japan Genomic Medicine Program, initiated by the Japan Medical and Research Development Agency (AMED) in 2015, includes several programs: an Integrated Database of Clinical and Genomic Information, the Promotion of Genome Medicine, a BioBank Japan Project for Genomic and Clinical Research, and a Tohoku Medical Megabank Project. The intent is to share the allele frequencies and disease variations of the Japanese population.
The Qatar Genome Programme (QGP) is a population-based project combining whole genome sequencing and other omics data with phenotypic data collected at Qatar Biobank. The focus is centered on initiatives with a direct clinical impact, targeting national priority diseases such as diabetes and cardiovascular disorders. Launched by Qatar Foundation, the pilot phase began in September 2015, and deliverables included the sequencing of over 10,000 whole genomes from apparently-healthy individuals.
Work beyond the first phase is intended to include sequencing and phenotyping efforts of around 10% of the population, followed by the sequencing of large segments of the Qatari population in order to integrate genome sequencing information with electronic medical records (EMRs) and the results of clinical studies.
United States of America (US)
The National Human Genome Research Institute (NHGRI) has worked to identify barriers to the implementation of genomics in clinical care and develop solutions for widespread dissemination.
Projects have included the Undiagnosed Diseases Network, Clinical Sequencing Evidence-Generating Research consortium, Electronic Medical Records and Genomics Network, Implementing Genomics in Practice Network, the Newborn Sequencing in Genomic Medicine and Public Health program, and the Clinical Genomics Resource.
In 2016, the All of Us Research Program—a key part of the Precision Medicine Initiative (PMI)—launched. The main goal is to gather data from one million or more participants living in the US in order to extend precision medicine to all diseases. As of February 2019, the Program had gathered more than 175,000 participants and over 100,000 samples.
INFRASTRUCTURE DEVELOPMENT
The Brazilian Initiative on Precision Medicine (BIPMed) began in 2015 and is supported by public foundation FAPESP. The initiative consists of five Research Innovation and Dissemination Centers (RIDCs) to develop shared genomic databases.
BIPMed's genomic databases contain pooled variant information of subjects from the Brazilian reference population (Campinas/São Paulo region) as well as phenotype-specific information on conditions such as craniofacial anomalies, breast cancer, hereditary hearing loss, and tuberous sclerosis. The intent is to progress from the creation of reference datasets to clinical cohorts.
Finland The Canadian Genomics Partnership for Rare Diseases (CGP4-RD)
A working group of Finland's Ministry of Social Affairs and Health developed a National Genome Strategy, which was published in 2015. It lays out key measures with the intent of ensuring that genomic data will be used effectively to help improve human health and well-being. Efforts include the development of a national reference database and IT infrastructure, legal and ethical framework, workforce development, and clinical decision-support tools.
In 2017, a new national personalized medicine project dubbed FinnGen launched with a goal of genotyping 500,000 participants. The public-private effort combines genome information with digital health care data and includes Finnish universities, hospitals, biobanks, and pharmaceutical companies. The study is expected to last six years, and the data created can potentially be used for prioritizing drug targets, enabling more efficient drug development pipelines, and improving upon individualized drug treatment choices.
A Dutch consortium (RADICON-NL), which consists of eight academic genetic centers, two non-academic Neonatal intensive care units, and several patient organizations, is researching the added value of whole genome sequencing as a first-tier test in the care of those with a rare genetic disease. In addition, the Health Research Infrastructure (Health-RI) is working to build a single interconnected infrastructure in order to combine genomic and other health data from various sources.
In 2016, the Swiss Academy of Medical Sciences (SAMS) was tasked with developing a Swiss Personalized Health Network (SPHN), which will begin with public institutions such as universities and university hospitals before extending to private hospitals and companies.
A priority during the period of 2017 to 2020 is the creation of a nationally coordinated data infrastructure to enable interoperability, with an emphasis on clinical data management systems. Beyond that, the vision is to integrate public health and healthy citizen data.
Correction: The funding sources for the Canadian Genomics Partnership for Rare Diseases (CGP4-RD) from Genome Canada were clarified. 
Paul Nicolaus is a freelance writer specializing in science, nature, and health. Learn more at www.nicolauswriting.com.