Dr. Kiana Aran on a New Wave of Technological Advancements With Graphene
October 25, 2022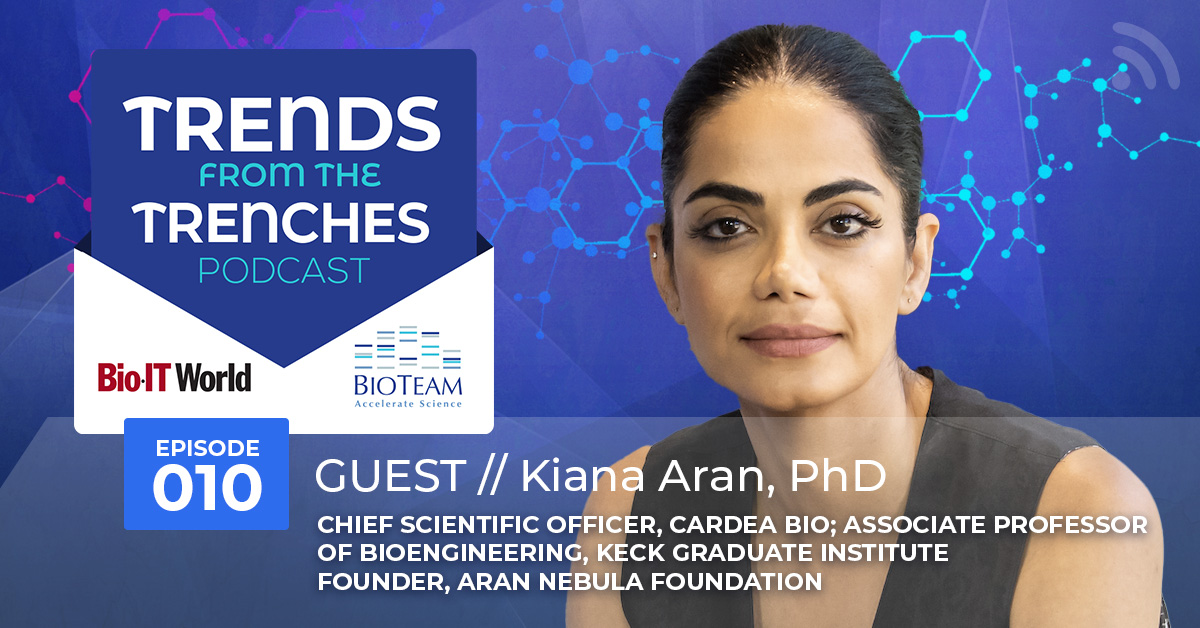 Graphene has quickly become a biotech buzzword as scientists aim to better connect with biology and usher in a new wave of technological advancements. Outperforming silicon at nearly every turn, graphene is one of the most biocompatible tools for extracting valuable information without disrupting biological systems. "Graphene is a single layer of carbon molecules. Everything in our body is made of carbon. It's the most compatible material we can find that has amazing electronic properties. You can build electronics and conjugate with biology without impacting the biology and without biology impacting it," says Dr. Kiana Aran, chief scientific officer at Cardea Bio, Keck Graduate Institute associate professor of bioengineering, and founder of the Aran Nebula Foundation.

In the latest episode of Bio-IT World's Trends from the Trenches podcast, host Stan Gloss, founder of BioTeam, speaks with Aran about the scientific advantages of merging graphene with modern technology. She also discusses her work in creating graphene-based biological transistors for pathogen detection, CRISPR-based gene editing, and plant genotyping. Finally, Dr. Aran provides an update on the Aran Nebula Foundation, an organization designed to help women in science build their scientific skill sets in preparation for leadership roles.
---
Kiana Aran, Ph.D., Chief Scientific Officer, Cardea Bio and Associate Professor of Bioengineering, Keck Graduate Institute
Dr. Kiana Aran is an Iranian/American biomedical entrepreneur who is an associate professor of bioengineering at Keck Institute in the US as well as co-founder and chief scientific officer at Cardea Bio, a biotechnology company developing bio-integrated electronic chips for precision medicine. She is also the technical cofounder of CRISPR QC, a biotechnology company that develops analytical tools for CRISPR, and a pioneer in combining CRISPR with modern electronics.
Dr. Aran received her Ph.D. in Biomedical Engineering at Rutgers University and continued her postdoctoral studies in bioengineering at UC Berkeley. She is a recipient of the National Institutes of Health postdoctoral training fellowship at the Buck Institute for Age Research and is a consultant for the Gates Foundation. Her efforts have been recognized within the scientific community by the Clinical OMICs 10 under 40 Award, Athena Pinnacle Award in Life Sciences, NSF Career award, Nature Research Awards for Inspiring Women in Science: Scientific Achievement Category's Overall Winner in 2021, and Distinguished Engineering Medal of Excellence from Rutgers University in 2022. Dr. Aran is also the recipient of multiple NIH RO1, DARPA, and Gates Foundation grants and awards from the private sector to develop the next generation of electronic biosensors for precision medicine.
---
Host Bio
Stan Gloss
As co-founder and Evangelist of BioTeam, Stan Gloss has been working to tell the stories of the intersection of science, data and technology since 2002. Gloss joined with fellow founding partners Bill Van Etten and Chris Dagdigian to form BioTeam in 2002 following his tenure in business development with AVAKI Corporation, a pioneer in global grid software solutions, and Blackstone Computing, a computing and IT consulting company for scientists, Gloss led the sales initiative that launched the company in the life sciences market. Gloss earned his MS at the University of Buffalo and was a department chairman and faculty member at Quinnipiac University.
A life science IT consulting firm at the intersection of science, data, and technology, BioTeam builds innovative scientific data ecosystems that close the gap between what scientists want to do with data—and what they can do. Learn more at www.bioteam.net.