How Recursion Hopes to Harness the Big Picture View to Understand Biology's Landscape
January 24, 2023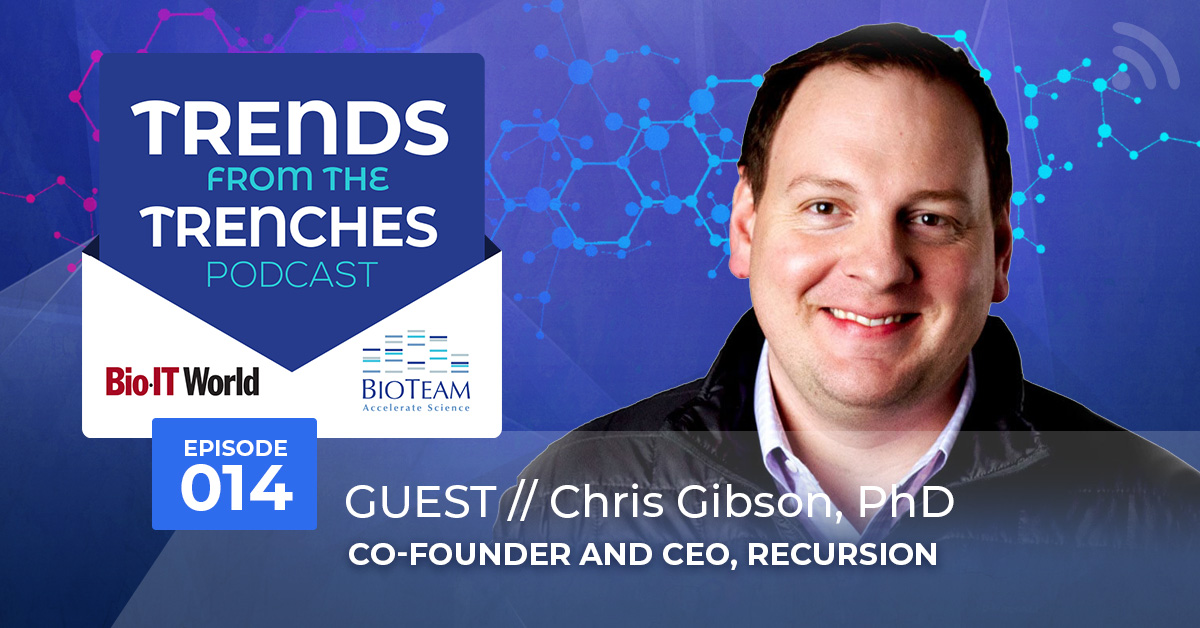 After ten years of working on a specific disease, Chris Gibson's graduate school lab tested their treatment theory on an animal model. It not only didn't work, it actually made the animals worse. The experience prompted Gibson to look into how other tools and techniques could be brought to bear on biological programs. And so he quit medical school to co-found Recursion Pharmaceuticals where he is now CEO.

In this episode, Gibson sits down with host Stan Gloss of BioTeam, about Recursion's mission to decode biology, radically improve lives, and set big goals to innovate across every stage of drug discovery. "If you set goals that are easily achieved, you default to using tools that have been used in the past. The only way you can force yourself to use new tools is if you set goals that are very hard to achieve if not seemingly impossible," Gibson said. He talks about the company's use of 'omics technologies to answer the industry's present and future questions, their highly automated wet lab with robots, and Recursion's use of machine learning to understand biology as a complete system. Gibson also discusses the company's purpose-built datasets and the culture-first approach that helps foster more agility relative to larger, older pharmaceutical giants.
---
Chris Gibson, Ph.D., Co-Founder and CEO, Recursion
Chris Gibson developed the technology and approach that seeded Recursion as part of his M.D./Ph.D. work in the lab of co-founder Dr. Dean Li (current President of Merck Research Labs) at the University of Utah. After completing his Ph.D., Gibson left medical school to build Recursion into the rapidly growing company it is today. He is a graduate of Rice University with degrees in bioengineering and management.
Gibson serves on the Board of BioUtah and is the Chair of BioHive, the public-private partnership driving expansion of Utah's life-science ecosystem, the fastest growing in the nation. Chris is also active as an advisor and mentor, both formally and informally, of many young biotech founders. Chris enjoys cycling on both the road and the trails that cut through Utah's great wilderness and spending time with family.
---
Host Bio
Stan Gloss
As co-founder and Evangelist of BioTeam, Stan Gloss has been working to tell the stories of the intersection of science, data and technology since 2002. Gloss joined with fellow founding partners Bill Van Etten and Chris Dagdigian to form BioTeam in 2002 following his tenure in business development with AVAKI Corporation, a pioneer in global grid software solutions, and Blackstone Computing, a computing and IT consulting company for scientists, Gloss led the sales initiative that launched the company in the life sciences market. Gloss earned his MS at the University of Buffalo and was a department chairman and faculty member at Quinnipiac University.
A life science IT consulting firm at the intersection of science, data, and technology, BioTeam builds innovative scientific data ecosystems that close the gap between what scientists want to do with data—and what they can do. Learn more at www.bioteam.net.