Jim Bilotta on Digitization vs. Digital Transformation at Alnylam
March 29, 2022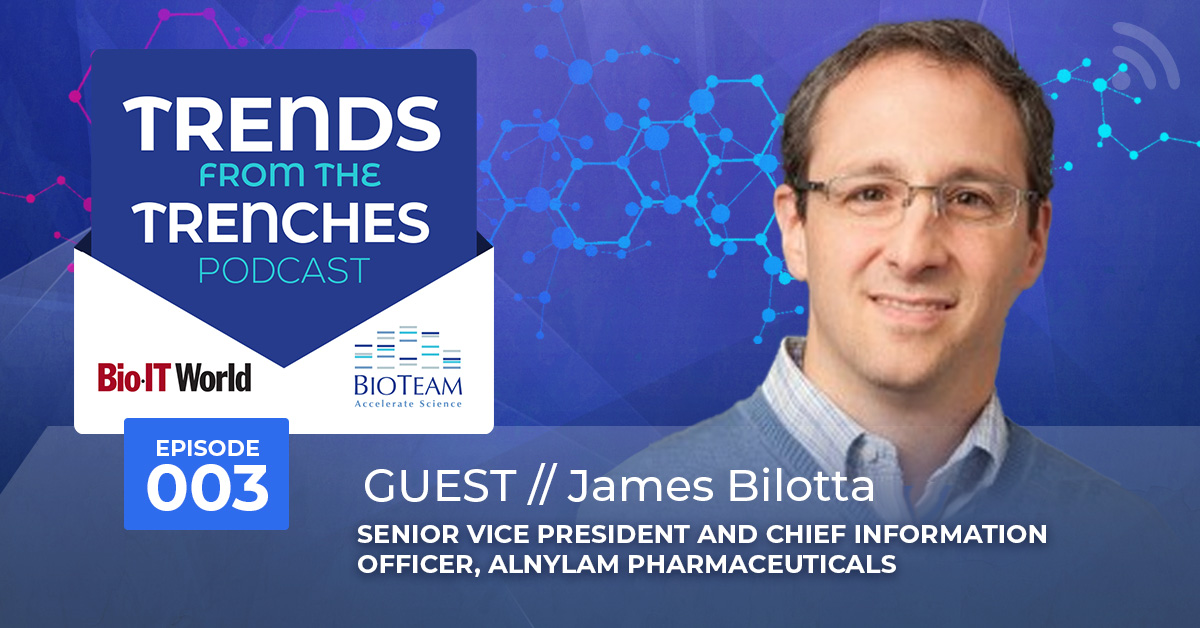 Jim Bilotta found his home in orphan diseases early in his career, driven by both personal experience and the "unbelievable" impact on patients and their families. Today, as Chief Information Officer, head of IT, at Alnylam, he is still pursuing that impact. Bilotta and Trends from the Trenches host, Stan Gloss, discuss digital transformation at Alnylam, and how Bilotta views the distinction between digitization and digital transformation.
---
Jim Bilotta, Chief Information Officer (CIO) and Senior Vice President of IT and Business Capability Building at Alnylam Pharmaceuticals
Jim Bilotta is the Chief Information Officer (CIO) and Senior Vice President of IT and Business Capability Building at Alnylam Pharmaceuticals. Under his direction, Jim's global organization provides the digital backbone including systems, technologies, and project leadership that drive value across all areas of Alnylam's global business. Prior to Alnylam, Jim served as Vice President and CIO at Synageva Biopharma. As CIO, Jim led all areas of IT, including the technology initiatives to enable a commercial launch of the company's first pharmaceutical product. Before to his time at Synageva, Jim served as Chief Information Officer for Alexion Pharmaceuticals where he led the global IT organization and founded the company's captive shared services-center in Mumbai India. Under Jim's leadership, the IT organization provided the state-of-the-art technologies and cloud-based solutions that enabled the company's expansion into regions around the world. Earlier in his career, Jim served in roles with increasing responsibility in the Consulting and Life Sciences industries. Jim holds a Bachelor of Science and MBA from Southern Connecticut State University where he won the Business School's Outstanding Student Award.
---
Host Bio
Stan Gloss
As co-founder and Evangelist of BioTeam, Stan Gloss has been working to tell the stories of the intersection of science, data and technology since 2002. Gloss joined with fellow founding partners Bill Van Etten and Chris Dagdigian to form BioTeam in 2002 following his tenure in business development with AVAKI Corporation, a pioneer in global grid software solutions, and Blackstone Computing, a computing and IT consulting company for scientists, Gloss led the sales initiative that launched the company in the life sciences market. Gloss earned his MS at the University of Buffalo and was a department chairman and faculty member at Quinnipiac University.
A life science IT consulting firm at the intersection of science, data, and technology, BioTeam builds innovative scientific data ecosystems that close the gap between what scientists want to do with data—and what they can do. Learn more at www.bioteam.net.