Lita Sands on the Cloud, Digital Transformation, AWS Future Plans
February 22, 2022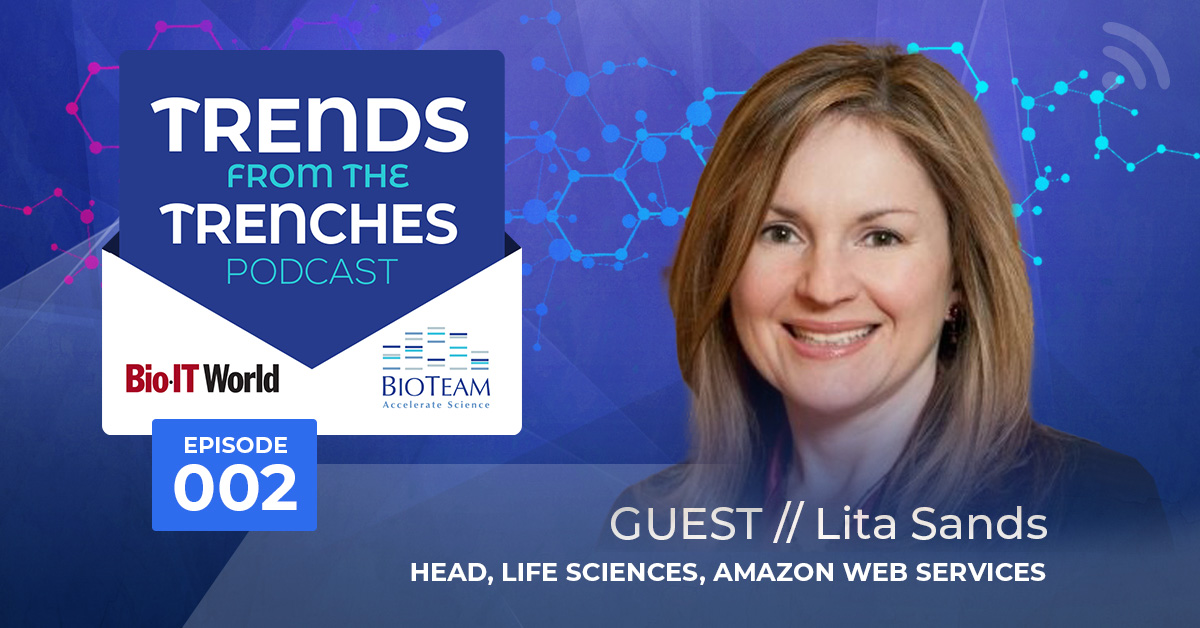 From big pharma to Amazon Web Services, Lita Sands has seen the amazing impact that the Cloud has had on life sciences research over the course of her career. During the pandemic, Sands has seen companies' journeys to the cloud accelerate from 8-12 year roadmaps into 1-2 year transition plans. As companies turn their attention to enabling digital transformation, Sands has some advice. Take a 1-3 year view of your goals, she says, and don't try to boil the ocean. "People need to see success." She advocates for strong partners who have already built and validated the tools you need, and warns against setting a finish line. "You'll never be done," she says.
---
Lita Sands, Head, Life Sciences, Amazon Web Services
Lita is the Worldwide Head of Life Sciences for AWS. In this role, she works with business leaders to accelerate transformation goals across the value chain through advanced cloud-based capabilities to drive better outcomes for patients, caregivers and healthcare providers. Prior to this role, Lita led the AWS-Deloitte WW healthcare and life science alliance, where she drove development of enterprise platform solutions for everything from decentralized clinical trials to real world evidence. Lita has led large-scale transformation initiatives for pharmaceutical companies such as Novartis, Pfizer and Pharmacia. In her most recent client role as Chief Digital Officer for Novartis Pharma, she led the creation of the US and Global Multi-Channel and Digital capabilities, building solutions for customer facing teams around the globe, introducing the first digital patient applications for primary care, and driving employee upskilling and operational change management. Lita is a member of the inaugural MM&M Top 40 Healthcare Transformers, a member of Clinical Trial Transformation Initiative (CTTI) tech advisory board, and a founding member of Digital Medicine Society DiME. Lita received a B.S. with a dual major in Computer Science and Marketing from Kean University and an M.B.A. from the Wharton School of Business.
---
Host Bio
Stan Gloss
As co-founder and Evangelist of BioTeam, Stan Gloss has been working to tell the stories of the intersection of science, data and technology since 2002. Gloss joined with fellow founding partners Bill Van Etten and Chris Dagdigian to form BioTeam in 2002 following his tenure in business development with AVAKI Corporation, a pioneer in global grid software solutions, and Blackstone Computing, a computing and IT consulting company for scientists, Gloss led the sales initiative that launched the company in the life sciences market. Gloss earned his MS at the University of Buffalo and was a department chairman and faculty member at Quinnipiac University.
A life science IT consulting firm at the intersection of science, data, and technology, BioTeam builds innovative scientific data ecosystems that close the gap between what scientists want to do with data—and what they can do. Learn more at www.bioteam.net.