Vizgen's Terry Lo on Creating Maps of Biology's Backroads
December 27, 2022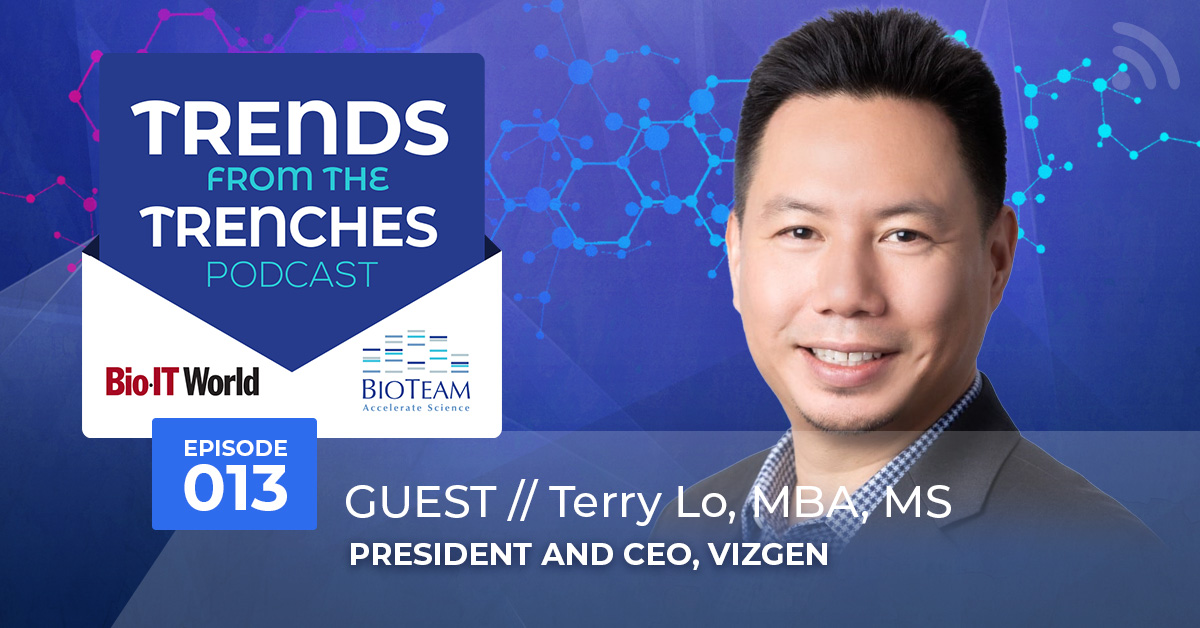 Terry Lo has been in healthcare for almost 25 years, with business and commercial roles across pharma, diagnostics, and life sciences, but his most recent role—CEO at Vizgen—connects him with what he calls, "without a doubt the most exciting space I've been involved with." In this episode, Lo speaks with BioTeam's Stan Gloss about spatial biology, why it matters, and how he imagines the technology changing healthcare's future.

Lo details how a science that explores the intersections between visual histology and molecular markers creates more complete images or maps of healthy and diseased tissues to better understand disease onset and progression. He explains, "The challenge has always been that these two have been very separate fields of science and technology. Now we have this ability to bring them together. And that's really how you get spatial biology." He also talks about Vizgen's MERSCOPE platform powered by MERFISH (multiplexed error robust fluorescence in situ hybridization) technology, its origins at Harvard, and the company's collaboration with the Allen Brain Institute to create detailed brain maps.
---
Terry Lo, MBA, MS, President and CEO, Vizgen
Terry Lo is President and CEO of Vizgen, a biotech startup commercializing the next generation of spatially resolved, single-cell genomics tools to power the future of research and discovery. Lo is a pioneer in the emerging Spatial Biology market and has a proven track record of driving exceptional growth across global life sciences organizations. In addition to over two decades of experience scaling and building global biopharma and diagnostic organizations, he is an expert in developing international business strategies for massive market growth with innovative products.

At Roche Diagnostics, he was instrumental in driving a paradigm shift in the standard of care benefiting millions of women worldwide through the implementation of HPV primary screening in cervical cancer screening. Lo holds an MBA from the University of Chicago Booth School of Business, an MS in Microbiology from Virginia Tech, and dual BS degrees in Molecular Genetics and Psychology from The Ohio State University.
---
Host Bio
Stan Gloss
As co-founder and Evangelist of BioTeam, Stan Gloss has been working to tell the stories of the intersection of science, data and technology since 2002. Gloss joined with fellow founding partners Bill Van Etten and Chris Dagdigian to form BioTeam in 2002 following his tenure in business development with AVAKI Corporation, a pioneer in global grid software solutions, and Blackstone Computing, a computing and IT consulting company for scientists, Gloss led the sales initiative that launched the company in the life sciences market. Gloss earned his MS at the University of Buffalo and was a department chairman and faculty member at Quinnipiac University.
A life science IT consulting firm at the intersection of science, data, and technology, BioTeam builds innovative scientific data ecosystems that close the gap between what scientists want to do with data—and what they can do. Learn more at www.bioteam.net.